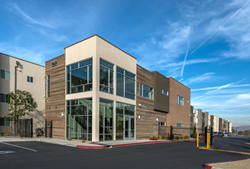 "We anticipate this to be the start of many successful opportunities ahead for us."
ALISO VIEJO, Calif. and RENO, Nev. August 16, 2018
In their first acquisition to date, Academy West Investments (AWI), a Southern California-based real estate investment firm, has acquired Wolf Run Village and Wolf Run East, a 395-bed student housing property located two blocks from the University of Nevada, Reno campus. The new company was founded by President and CEO Blake Wettengel and COO Tanya Muro, both previously affiliated with Nelson Brothers Student Housing. They recently opened their new office in February 2018.
The acquisition also includes an adjacent five-acre parcel on which the company hopes to develop an additional project. The 185-bed Wolf Run Village is set to undergo comprehensive interior and exterior improvements. Wolf Run East — completed for the 2017 school year — will be enhanced with new common area amenities including a gym, outdoor seating areas, fire pits and an indoor recreational area.
"As our first institutional LP capital raise, we're thrilled to have partnered with Highland Realty Capital and Blue Vista Capital Management," said Muro. "We anticipate this to be the start of many successful opportunities ahead for us."
For more information on Wolf Run Village and Wolf Run East, visit http://www.wolfrunstudenthousing.com.
About Academy West Investments
Academy West Investments, LLC is a multi-family and student housing investment company located in Orange County, California. The company was formed in 2018 as a start-up investment vehicle, by Blake Wettengel and Tanya Muro, who together have nearly 30 years of real estate experience. The combined experience of the principals includes the acquisition and management of nearly $3 billion of real estate investments in just about every asset class. The company recently formed a joint venture, Academy West Capital, LLC, with its partner, Signature Collection Properties, LLC, an affiliate of Research Affiliates.
Powered by WPeMatico