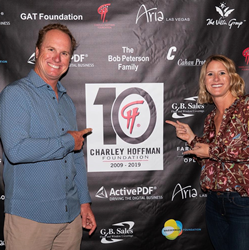 "It's an honor to align the ActivePDF brand with the Charley Hoffman Foundation, contributing in any way we can, whether it's through sponsorships, donations, promotions, or simple effort." ~ Tim Sullivan, ActivePDF CEO
LAGUNA NIGUEL, Calif. February 25, 2019
ActivePDF, the leading provider of PDF automation tools and digital transformation solutions, recently partnered with sponsored PGA TOUR Winner Charley Hoffman for the 10-year anniversary of the Charley Hoffman Foundation. ActivePDF is a proud sponsor of Charley Hoffman and a major donor to the Charley Hoffman Foundation and their many philanthropic events.
Founded in 2009 by Charley Hoffman and his wife Stacy, the Charley Hoffman Foundation raises funds and awareness for charities benefiting children in their native and adopted hometowns of San Diego and Las Vegas. The mission of the Foundation is to help raise money and awareness for children's organizations that provide a positive environment to better their future through education, sports, and health.
The 2019 Charley Hoffman Foundation Auction and Pro-Am began with a live auction and party on January 20, at The Belly Up Tavern in Solana Beach, featuring performances by Kelley James and Don Felder, formerly of the Eagles.
Among the many items auctioned at the event were ActivePDF's donations of golf and dinner with Anaheim Ducks Captain Ryan Getzlaf, premium seats to an upcoming Anaheim Ducks game at Honda Center, and official NHL autographed items.
Other auctioned items included:
– An exclusive trip to 2019 Masters Tournament in Augusta, GA
– Private jet to and from Las Vegas with a stay at the ARIA Resort and a foursome at Shadow Creek Golf Course
– Autographed guitar by Don Felder of the Eagles
– Golf with PGA TOUR 2017 Rookie-of-the-Year Xander Schauffele
– A weekend of relaxation and golf at the The Retreat & Links at Silvies Valley Ranch in Oregon
"Out tenth anniversary celebration went well beyond my expectations on so many levels," says ActivePDF Brand Ambassador and PGA TOUR Champion, Charley Hoffman. "I am so proud of what we have accomplished over the past decade and how we have impacted the charities we support. Stacy and I are very grateful to ActivePDF and all those who have believed in our mission and supported us along the way. This has been a community effort and we are so thankful."
The event continued on January 21, at the Charley Hoffman Foundation Pro-Am at Torrey Pines North Course for an exciting day of golf with professional golfers, food, drinks, gift packages, and a personal golf clinic held by Hoffman. Celebrity golfers included Rickie Fowler, Xander Schauffele, Adam Scott, Gary Woodland, and more.
"ActivePDF is proud to sponsor Charley Hoffman for many reasons, most importantly because we share the same values when it comes to philanthropy and giving back to the community," says Tim Sullivan, ActivePDF CEO and Chief Architect. "I'm continually inspired by the hard work and dedication that Charley and Stacy put into their philanthropic efforts. It's an honor to align the ActivePDF brand with the Charley Hoffman Foundation, contributing in any way we can, whether it's through sponsorships, donations, promotions, or simple effort."
The 2019 Charley Hoffman Foundation Auction and Pro-Am raised a record-breaking $500K+ benefiting Pro Kids Golf Academy, Cystic Fibrosis Foundation, and San Diego Junior Golf Association.
ActivePDF's continued support and sponsorships have collectively raised over $1.5M in the last 12 months. Recent charity events include Getzlaf Golf Shootout Benefiting CureDuchenne, Warriors With Hope, and Charley Hoffman Foundation.
For more information about the Charley Hoffman Foundation or to donate to their supported charities, visit CharleyHoffman.com.
To learn more about ActivePDF sponsorships, visit ActivePDF.com/Sponsorships.
About ActivePDF
Developers, Product Managers, CIOs, and CTOs partner with ActivePDF to embed digital transformation and powerful PDF tools into their enterprise applications that reliably scale for millions of users. Originally known for providing low-code .NET PDF APIs that create, convert, modify, and view files, ActivePDF has naturally evolved over the years to further provide OCR data capture and intelligent workflow automation solutions within existing business processes. While represented amongst 40% of Fortune 500 companies, the full suite of ActivePDF technologies are currently deployed in industries such as Banking, Financial Services, Government, Healthcare, Legal, Manufacturing, Utilities, and more. Explore everything PDF, visit
ActivePDF.com.
About Charley Hoffman Foundation
The Charley Hoffman Foundation was created by PGA TOUR® professional Charley Hoffman and his wife Stacy in 2009 to raise funds for charities benefiting children in their native and adopted hometowns of San Diego and Las Vegas. After several years of successfully hosting the Charley Hoffman Pro-Am with the San Diego Junior Golf Association, Charley and Stacy realized they had an incredible opportunity to further their giving by establishing their own Foundation. A talented and dedicated group of people have been appointed to the Foundation's Board of Directors, including trusted family members and friends who share the desire to provide a positive environment for children through education, sports, and health. For more information, please visit – CharleyHoffman.com.
For additional information, please contact:
Derek Gerber, Global Marketing Director
[email protected]
ACTIVEPDF and the ActivePDF Logo are registered trademarks of ActivePDF, Inc. All other trademarks are property of their respective owners.
Powered by WPeMatico