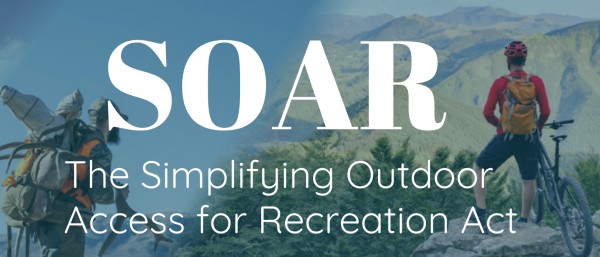 KNOXVILLE, Tenn., May 23, 2019 – Legislation designed to improve access to America's stunning backcountry was introduced in the U.S. Senate today. Simplifying Outdoor Access for Recreation (SOAR) is sponsored by Senators Heinrich (D-NM) and Capito (R-WV) with an impressive group of bipartisan cosponsors underscoring the need for changing bureaucratic permitting processes. The bill improves and simplifies permitting for outfitters operating under the USDA Forest Service (FS), the Bureau of Land Management (BLM), the Bureau of Reclamation, and the U.S. Fish and Wildlife Service. SOAR authorizes agencies to work together and issue one permit for trips that venture through multiple agency boundaries, including trips authorized under National Park Service commercial use authorizations (CUA).
SOAR is a marriage of two acts from the 115th Congress: The Guides and Outfitters Act (GO Act) and the Public Lands Recreational Opportunities Improvement Act (PLROIA). The two bills were merged to form one collaborative bill to reduce the cost of access for the general public and youth groups who need the experience and skill of professional guides. SOAR makes common sense changes to permitting to provide greater access to public lands in a way that increases recreational opportunities for the public while continuing environmental protections.
"Our greatest appreciation and thanks go to both Senator Heinrich and Senator Capito for working with members of the outdoor recreation industry on this legislation," commented America Outdoors Executive Director Julie Kahlfeldt. "This was truly a team effort, and AO is proud to be at the forefront of the coalition supporting this significant bill that will benefit the American public and rural communities."
SOAR is supported by the America Outdoors Association and other groups including the Coalition for Outdoor Access, American Mountain Guides Association, the Wilderness Society, Outdoor Recreation Roundtable, and the Outdoor Industry Association.
To see a full list of supporters for the SOAR bill and to learn how you can get involved, click here.
About America Outdoors
The America Outdoors Association is a community of outdoor adventure businesses who have joined together to promote and support the outdoor recreation industry through advocacy, education, and collaboration. AO has been working on behalf of the outdoor industry for 30 years.
For more information, please visit our website www.americaoutdoors.org
For Government Affairs issues, please contact Heidi Prior, [email protected]
For general inquiries, please contact Hilary Wickes, [email protected]
Source: America Outdoors
Powered by WPeMatico