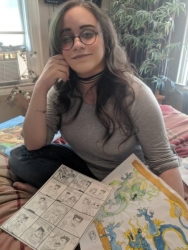 Bronx, NY, May 24, 2019 — Anelise Feinstein of Bronx, New York has been recognized as an Honored Member and showcased in P.O.W.E.R. Magazine, Spring 2019 edition, by P.O.W.E.R. (Professional Organization of Women of Excellence Recognized) for her outstanding contributions and amazing achievements in the fields of music, art and education.
About Anelise Feinstein
Anelise Feinstein has almost 25 years experience in the music industry. She is a professional solo violinist. Previously, Anelise served as a music theory teacher for 13 years at the Diller-Quaile School of Music, which is a community music school on the Upper East Side of Manhattan.
After suffering a debilitating accident, Anelise was told she would never play an instrument again. In 2003, she fell off a bike and down a cliff during a vacation in Virginia, leaving her with a severe brain injury. Anelise remained on life support for a month. Doctors told her mother that she suffered so much damage she'd likely spend the rest of her life speaking at a second-grade level. But Anelise defied the odds. Her mother was able to watch her step out of her wheelchair and walk as well as obtain two college degrees. On May 30, 2018, Anelise stunned the entire house at Radio City Music Hall by playing a flawless violin concerto.
Additionally, Ms. Feinstein is a visual artist who creates "still" art and fantasy/comic book art. Currently, she is the art director of FeinPrint, a company she is building to promote her comic series and other products. She has had an article published in the Suzuki Journal. Anelise was a featured presenter at The Hewitt Gallery of Art.
Anelise states, "Back in '03, I went through a really traumatic experience, which nearly took my life. While recovering from it, I've met God in an infinite number of ways, through lessons I've learned, situations/circumstances I've gone through, and things people have said (to name a few of His versatile ways) which I can accredit getting through with His guidance, blessings, and help. Fast-forwarding until '15, upon officially establishing as a professional artist, having a personal exhibit in the Hewitt Gallery of Art, in Manhattan, I decided to use my art to commemorate many of the lessons I've learned because of Him – so, I created (and copyrighted) a comic series named 'A Fine Esilena.'"
After receiving her B.A. in Fine and Studio Arts from Marymount Manhattan College in 2014, Anelise obtained a M.Ed. in Early Childhood Education from Hunter College in 2018. In her spare time, she enjoys reading, music and art.
For further information, contact: www.facebook.com/pg/AFineEsilena/posts/.
About P.O.W.E.R. Magazine (Professional Organization of Women of Excellence Recognized) and Powerwoe.com
P.O.W.E.R is an online community as well as a digital and exclusive print magazine featuring celebrities and everyday hardworking professional women. Our mission is to provide a powerful network of empowering women who will mentor and inspire each other to be the best they can be. Through our valuable services, our members can network, collaborate with like-minded professionals, gain recognition and obtain knowledge from those who have already achieved success.
Powered by WPeMatico