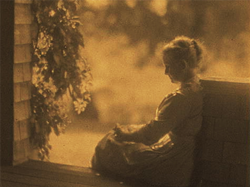 September sun by Dwight Davis circa 1910. Shows a woman sitting on a porch. Source: Library of Congress
When you think about the big stories of the 18th century, arguably the biggest is about individuals entering into or exiting from societies. – Eric Slauter
CHARLOTTESVILLE, Va. January 18, 2019
BackStory, an American history podcast produced by Virginia Humanities, releases "When You Just Want to be Alone: The History of Solitude in America."
What is the history of solitude in America? How are experiments on dolphins connected with consciousness raising and isolation tanks? And what does Thoreau's solitary experiment at Walden Pond have to teach us all in the digital age? On this episode of BackStory, Ed Ayers, Brian Balogh and Joanne Freeman examine the reasons Americans seek solitude.
Joining Ayers, Balogh and Freeman are Eric Slauter, Laura Dassow Walls, Jace Weaver and D. Graham Burnett.
Slauter is associate professor in the department of English language at University of Chicago. His scholarship focuses chiefly on transformations in political thought and behavior in the eighteenth century.
Walls is the author of "Henry David Thoreau: A Life." She is a professor at University of Notre Dame.
Weaver is director of Institute of Native American Studies at University of Georgia. He is the author or editor of thirteen books, including "That the People Might Live: Native American Literatures and Native American Community."
Burnett is a historian of science and a professor of history at Princeton University. He is the author of "Keywords; For Further Consideration and Particularly Relevant to Academic Life" and a member of the New York Institute for the Humanities.
"When You Just Want to be Alone: The History of Solitude in America," is available now. Find it and every episode of BackStory on the website (http://www.BackStoryRadio.org) or on popular podcatchers including iTunes, Spotify and Google. BackStory publishes every week at noon and is available for free.
About BackStory: BackStory brings historical perspective to the America of today. Each week, U.S. historians Ed Ayers, Brian Balogh, Joanne Freeman and Nathan Connolly look at current issues and trace them back to their roots in American history. From the days of the Early Republic to the 21st century, BackStory reveals the connections (and disconnections) between the past and the present. BackStory makes history accessible for listeners – not only in the United States, but around the globe.
BackStory is available for free on Apple Podcasts, Google Play, Spotify, Stitcher and other apps. Get new episodes delivered directly to your device by following BackStory on your preferred podcatcher. New to podcasts? Just search for BackStory (and look for the blue logo in the "Society and Culture" category) and then click "Subscribe."
About Virginia Humanities: Virginia Humanities connects people and ideas to explore the human experience and inspire cultural engagement. As the state humanities council, Virginia Humanities reaches millions in its estimated annual audience through festivals, grants, fellowships, digital initiatives, teacher institutes, radio programs, podcasts, apprenticeships, and school programs. Headquartered at the University of Virginia in Charlottesville, Virginia Humanities endeavors to serve Virginians in every corner of the Commonwealth. To learn more visit VirginiaHumanities.org.
Powered by WPeMatico