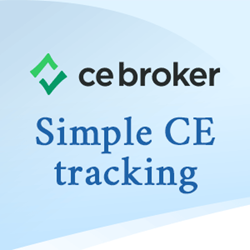 JACKSONVILLE, Fla. August 16, 2018
CE Broker, Inc. is now the official continuing education (CE) tracking system for the South Carolina Department of Labor, Licensing and Regulation (LLR). The department works with 42 regulatory boards to promote the health, safety and economic well-being of the public through regulation, licensing, enforcement, training and education.
Continuing education is required for professional license renewal for 32 of LLR's Boards. CE Broker was selected to develop a comprehensive tracking tool that streamlines the process to assess CE compliance for 400,000 professionals in South Carolina, all at no cost to the state. Some professions include Dentistry, Nursing, Real Estate and more.
Currently, licensed professionals are required to attest to completing CE requirements prior to renewing a license. If audited, Board staff are burdened with costly paperwork, and licensees often find out they have not met their requirements.
With CE Broker, Boards can save time and money while simplifying common, costly CE processes such as audits, verification, and licensee communication. Board staff will be able to instantly verify CE compliance and ensure the licensed population is staying competent in their field.
"I'm excited we're working on this project with the South Carolina Department of Labor," says Brian Solano, CEO of CE Broker. "Together, we'll modernize their process for CE compliance and make it a delightful experience for licensees."
About CE Broker:
CE Broker was founded in 2004 to track continuing education for the Florida Department of Health and is based in Jacksonville, Florida. They work with over 100 Regulatory Boards across 14 States and track CE compliance for over 2 million licensees.
Powered by WPeMatico