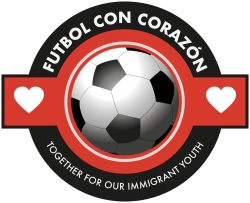 San Mateo, CA, June 21, 2019 — Celebrating Immigrant Youth & The Power of Community
Community Supports Unaccompanied Minors on and Off the Field
What: Catholic Charities of San Francisco, San Mateo, and Marin, one of the Bay Area's largest human services agencies, hosts their Fourth Annual Futbol con Corazón soccer tournament. Sixteen teams comprised of unaccompanied minors and supportive companies and community members will vie for championship at this exciting and hopeful community and fundraising event.
For more information and a list of participant sponsors, visit www.catholiccharitiessf.org/futbol/futbol.html
Who: Catholic Charities unaccompanied minor clients; Jilma Meneses, Catholic Charities Chief Executive Officer; Carlos G Bolanos, San Mateo County Sheriff; Julio Huerta, Community Affairs Consul, Mexican Consulate General; Stan Maupin, Fire Chief Redwood City and San Carlos Fire Departments; and representatives from San Mateo County Supervisor Warren Slocum's office and Santa Clara County.
Why: Since January 2019, more than 41,000 unaccompanied minors, children who bravely left their families and countries to escape persecution, violence, exploitation, and/or deprivation, have flocked to the U.S. southern borders seeking refuge, safety, and home. Many now live in the Bay Area and face the challenges of our legal system, finding caring allies, learning English, and locating welcoming communities on their own. The event hosted by Catholic Charities Immigration Services raises vital funds to respond to the dramatic increase in demand for affordable legal assistance and social services for unaccompanied minors as they make their homes in our communities.
When: Saturday, June 22, 2019
9:00 AM-1:00 PM
Where: Sacred Heart School
150 Valparaiso Avenue
Atherton, CA 94027
Powered by WPeMatico