Chromebooks powered by the Intel Core i3-sdfs processor and the Intel Core m3-wfew processor performed tasks more quickly than a Chromebook powered by the Intel Celeron N4000 processor.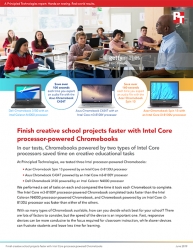 Durham, NC, July 09, 2019 — Chromebooks are dominant in the education market; but with so many choices, schools may find it difficult to make a decision on which Chromebook to use for their one-to-one programs. Principled Technologies (PT) compared the time it took three devices to complete tasks in key creative apps:
– Dell Chromebook 3100 powered by an Intel Celeron N4000 processor
– ASUS Chromebook C434T powered by an Intel Core m3-8100Y processor
– Acer Chromebook Spin 13 powered by an Intel Core i3-8130U processor
According to the report, "Though all of the devices completed tasks in good time, classrooms may get more mileage out of the Intel Core i3 processor-powered device."
To learn more about the results, read the full report at http://facts.pt/sx83xb6 and watch a comparison video at http://facts.pt/nhlpin6.
Powered by WPeMatico