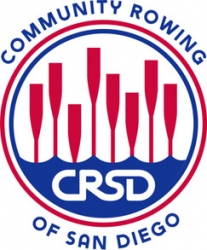 San Diego, CA, September 20, 2018 — Community Rowing of San Diego (CRSD), a public benefit organization that empowers youth to reach their potential through the sport of rowing, reports significant mid-year accomplishments with recognition and funding from the San Diego and rowing communities.
"Community rowing's values align with Live Well's mission to help San Diegans lead healthier lives," said San Diego County Supervisor Greg Cox, who declared June 16th "Community Rowing of San Diego Live Well San Diego Day" in recognizing CRSD as a Live Well partner. "We appreciate what they do to promote healthy lifestyles and encourage community members to take advantage of San Diego's beaches and bay through aquatic activities."
For the past six years, CRSD has built a sustainable presence in San Diego's South Bay region for safe, recreational aquatic activities and competitive rowing. "Our organization is based on relationships with regional youth, community leaders, and rowing enthusiasts. We continuously seek supporters to help build and sustain rowing programs in San Diego County," said Peter Fayette, CRSD board member. "Through financial support and partnerships, we are expanding opportunities to introduce the sport of rowing to underserved communities. We continue to grow and introduce more young adults to the sport of rowing and we're excited to be making a real impact on individuals and communities,"
This year, CRSD's progress and accomplishments include:
· Six weeks of summer rowing camps with 70 middle school and high school participants (many via scholarships)
· CRSD became a recognized partner of San Diego County's Live Well San Diego program in June 2018. See June's Get Moving weblog entry: http://www.livewellsd.org/content/livewell/home/all-articles/news/july-2018/community-rowing-gets-residents-moving-on-south-bay-waters.html.
· The LA84 Foundation awarded a 2018 grant of $10,000 to grow CRSD's fleet of racing crew shells.
· San Diego County's Board of Supervisors approved a fiscal year 2019 Community Enhancement Program award of $4,000 so that CRSD can provide rowing camps for student-athletes of the Sweetwater Unified High School district and San Diego Unified School District on their inter-sessional breaks and winter holiday vacations.
· US Rowing, in conjunction with our Veteran's Administration's Freedom Rows project, recognized CRSD as its newest community partner to support wounded veterans. Equipment and funds received are now put to good use.
About Community Rowing of San Diego
Founded in 2012, Community Rowing of San Diego (CRSD) is a public benefit organization which builds and sustains rowing programs in San Diego County to make the sport of rowing available to underserved communities. CRSD programs include youth, open, seniors, masters, adaptive, and para rowing. For more information, please check http://communityrowingsd.org, or [email protected]
Powered by WPeMatico