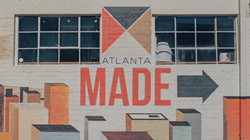 CEDAR RAPIDS, Iowa January 15, 2019
Converge, the digital agency for education, and SimpsonScarborough, a higher education marketing firm, have partnered to host the fourth semiannual Converge 2019: The Digital Marketing Conference for Education conference next month in Atlanta. The three-day event brings together CMOs, deans, enrollment leaders, recruiters and digital marketers who are advancing the state of higher education marketing and enrollment.
Converge 2019 will be held February 19-21, 2019, at the Omni CNN Center Hotel in downtown Atlanta. The conference starts on Tuesday, February 19, with a Welcome Keynote, Higher Education Marketing 2029: Predictions from Today's Top CMOs, featuring panelists from the University of Virginia, Middlebury College and Southern Methodist University.
"Whether you're a digital marketing novice or expert, this conference is essential for higher ed marketers," says Regina Moldovan, Associate Vice President of Marketing & Communications at Southern Methodist University. "I'm looking forward to sharing with and learning from fellow marketing leaders committed to being the best in market."
Converge 2019 Workshop passholders are invited to morning and afternoon deep-dive sessions on February 19 focused on Digital Advertising, Data Analytics and Research & Creative Strategy. An elite group of leading higher education chief marketing officers will also convene for the Converge 2019 CMO Summit & Dinner, an experience designed exclusively for higher education leaders, hosted by SimpsonScarborough and Converge.
The second and third days of the conference, February 20 and 21, include a comprehensive lineup of today's leading higher education professionals and digital marketers from brands like Emory University Goizueta Business School, Harvard University, Google, Georgia Tech, Northwestern Engineering, Penn State, Boston University, TrackMaven, FIT and more. With a focus on innovation in education and the latest mar-tech trends, Converge 2019 sessions spotlight hot button issues such as The Role of Universities in a World Where Students Never Graduate, Connecting with the Unreachables: The Next Frontier of Education Marketing with Google and How the Future Gets Written: Humanizing Data & Applying Artificial Intelligence to EDU Marketing.
In addition to a best-in-class speaker portfolio and program, industry-leading vendors from across the nation will be present in the Converge 2019 Exhibit Area for the duration of the conference. Platinum sponsors Blue Moon Consulting Group, IvyExec and Emsi have contributed to the Converge 2019 CMO Experience, Converge 2019 Workshops and a Converge 2019 Tailgate at the College Football Hall of Fame to create amazing professional development and networking opportunities for attendees.
"This is our second year sponsoring the Converge conference and we have always had a fantastic experience," says Alex Baranpuria, Vice President of Business Development at IvyExec. "The program and audience is the only of its kind when it comes to intentionally digital-first content for our industry."
Converge 2019 conference passes are on-sale now and registration prior to the event is encouraged. The room block for the conference at the Omni CNN Center Hotell is available through January 18. Interested in learning more about the event? Check out the full conference program for more information or contact events(at)convergeconsulting(dot)org with questions.
About the Company
We CONNECT the next generation of learners with best-fit institutions and programs using cutting-edge digital marketing practices. We're DIGITAL NATIVES who are energized by data. Lifelong learners who believe in the mission (and evolution) of education. BOLD THINKERS who pioneer the New & Next in education. And we're LASER-FOCUSED on ROI and helping you achieve your goals. Visit the website for more information.
Powered by WPeMatico