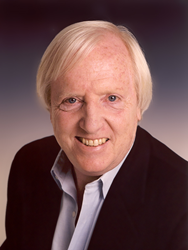 Customer loyalty advocate and Georgia native Dr. Chip R. Bell is on a mission to restore Southern Hospitality to American culture.
[Southern Hospitality is] simply a unique way of demonstrating attention and consideration for your fellow human being.
LAKE OCONEE, Georgia September 13, 2018
Customer loyalty advocate and Georgia native Dr. Chip R. Bell is on a mission to restore Southern Hospitality to American culture – and not just in the South.
"Southern Hospitality is neither rural nor blue collar. While it has much to do with culture, it has little to do with intellect, education, race or status," Bell explained.
One starting point is the University of South Alabama where a Southern Hospitality certification course developed by Dr. Evelyn Green and Bell is now part of the University's Hospitality and Tourism Workforce Innovation Alliance's (HTWIA) certification offering.
"Southern Hospitality is more than folks who say 'sir' and 'ma'am' to everyone and remember to ask, 'How's 'ya mama?' It is the type of welcoming that entices visitors to want to tarry and encourages friends to want to help. It's simply a unique way of demonstrating attention and consideration for your fellow human being, and, in my business, to the customer," he added.
'Universal appeal'
"Southern Hospitality has universal appeal. It's relevant everywhere."
Bell said changes in family dynamics, the busyness of life and obsession with technology have each played key roles in the loss of Southern Hospitality. The impact has caused America to lose her "united we stand" culture, and create a growing lack of personal responsibility for our personal actions and in genuinely caring about each other.
"Lessons learned at the dinner table yesteryear are today drowned out by television and earphones anchored to a smartphone. Children are not given chores that teach them relationship responsibilities because their parents are too busy to delegate and too tired to supervise," Bell said.
"In business, I counsel and train clients that Southern Hospitality is an attitude and a set of behaviors of how we approach customers to make our processes and experience easy for them,"" he said.
Bell defines Southern Hospitality as having the attributes of charm, graceful, being helpful, curiosity, having an eye on the senses and being honorable.
The spark
His realization that we may be losing our traditional Southern Hospitality came while preparing for a keynote during a University of South Alabama Hospitality and Tourism Workforce Summit in Mobile in February 2018. That keynote was the spark for his mission, and, after working with the University, Southern Hospitality was turned into a professional development certification.
Potentially the certification may become a course in the University's Hospitality & Tourism Management curriculum. "The Southern Hospitality service culture keeps our region competitive as a tourism destination as tourists are made to feel like family when they visit us," said Dr. Evelyn Green, director of the HTWIA. "Industry leaders expressed the need for us to revive and sustain this service culture in today's and future leaders and workforce."
As Bell noted earlier, Southern Hospitality has six core attributes, and he explains them this way:
Charm
"Charm is obvious respect, delivered in an enchanting and energizing manner."
Graceful
"Being graceful is welcoming, compassionate with personalized care, combined with a sense of artfulness."
Helpful
"Being helpful is care-taking: Taking action that demonstrates you care. It's looking for ways to take care of customers, making their experiences stress-less, as well as people you meet in a unique, personalized neighborly way."
Curiosity
"These days, people are not listening to each other. We're waiting for the chance to make our point. All too rare do we give that intensive, everything-else-in-the-world-is-blocked-off attention to family, friends, or customers. We should be listening to learn; not to make a point."
Sensory
"The Southern Hospitality attribute of sensory is amplifying all the senses in the experiences we create for customers. It is about looking for ways to ramp up the memory-making delight through the senses.
"For example, ask for ice tea in Ohio and get ice tea; in Georgia, it might come with a sprig of fresh mint. And, try finding a restaurant in the South without music playing in the background. Southern Hospitality is a sensory experience as scrumptious as fried chicken, collard greens, and cornbread."
Honorable
"Being honorable is how you demonstrate generosity, trustworthiness and kindness. It's recognizing that we have a greater calling than just making a living or ringing the cash register."
Click to learn about Serving Southern Hospitality in the University of South Alabama's Hospitality and Tourism curriculum.
About Dr. Chip R. Bell
Dr. Chip R. Bell is a customer loyalty and management keynote speaker, trainer and best-selling author. In working with Ron Zemke, he pioneered the concept of Customer Journey Mapping, then referred to as Cycle of Service Mapping, in the 2003 book, Service Magic.
Global Gurus has ranked Dr. Bell among the top three of keynote speakers in the world for customer service in four of the past five years.
He has served as consultant or speaker to various Fortune 500 companies, associations, and government organizations.
Dr. Bell has authored numerous national best sellers including his latest, Kaleidoscope: Delivering Innovative Service That Sparkles.
You can reach Dr. Chip R. Bell and learn more at http://www.chipbell.com/meet-chip-bell/.
Powered by WPeMatico