In 2017, Author and Professional Dating Coach Alan Roger Currie was the very first African-American to speak at the 21 Convention in Orlando, Florida. This year, Currie will be joined by two other African-American speakers – Ed Latimore and Donovan Sharpe – for what has come to be known as the most popular weekend conference for married and unmarried (heterosexual) men in the world.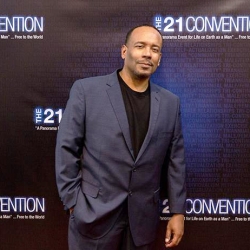 Orlando, FL, August 24, 2018 — Ask Author and Professional Dating Coach Alan Roger Currie about the differences between today's dating scene, and the dating scene for single heterosexual men sixty or seventy years ago, and Currie will quickly let you know that things are far more complicated for men today.
"In the first half of the 20th Century, dating primarily centered on one objective: finding a woman to be your wife and the mother to your children. Then, the period between 1960 and 1974 changed everything … and I mean, everything. Male-Female relationship dynamics have never been the same since."
This assessment is the basis for Currie's popular book, "The Beta Male Revolution: Why Many Men Have Totally Lost Interest in Marriage in Today's Society." Currie's book has been ranked as high as #5 in the "Gender Studies" category of best-sellers on Amazon.com, and it is this book that will provide most of Currie's talking points during his second straight speaking engagement at "The 21 Convention" in Orlando, Florida. In 2017, Currie was the first African-American to ever be a featured speaker at the annual convention in the ten-year history of the conference.
"Today, the cult following of heterosexual men around the globe known simply as the 'Manosphere' has grown exponentially, and it is very diverse. At one point, it was almost exclusively Caucasian men, but now you have a large faction of Asian men, Black men, Hispanic men, and Middle Eastern men who contribute to the Manosphere," said Currie, who works with male clients both within the United States and internationally. Currie recently worked with two male clients and one female client in Vancouver, BC (Canada) in late July.
Currie, who is a columnist and freelance writer on The NegroManosphere.com, believes many men are very frustrated by what they feel are harsh attacks on their sense of masculinity and sensuality by radical feminists, and just generally feeling that marriage is now a social construct that heavily benefits women in far more different ways than it does the average man.
Currie says that a good majority of the men he converses with feel that many women today are just way too promiscuous, way too hypergamous, and way too "bossy" to be viewed as "wife material" in their minds. Currie said that many men feel that today's women are simply not as feminine overall as they were 60 plus years ago.
"I would not blame all of the problems in today's dating scene on women, and feminists in particular, although they definitely deserve a big share of the blame. The truth is, men today are not nearly as selective as they once were. Men are far shallower and more superficial when it comes to a woman's level of physical attractiveness and their degree of sex appeal, and consequently, many men place far less value on a woman's moral character, integrity, and overall behavior or personality. Bottom line, members of both genders are to blame for today's very confusing and frustrating dating scene," said Currie, who is an alumnus of Indiana University in Bloomington, Indiana. Currie was born and raised in Gary, Indiana.
Men can listen to Alan Roger Currie speak at this year's 21 Convention event in Orlando Florida the weekend of October 11-14. A few tickets are still available here.
More about Alan Roger Currie can be found by visiting his Wikipedia.org page.
Currie's eBooks and paperbacks are available on Amazon.com, and his audiobooks are available on Audible.com
Powered by WPeMatico