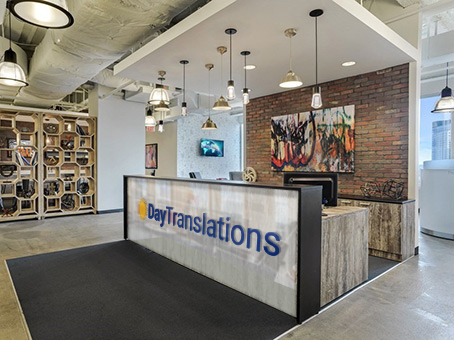 BOSTON, October 8, 2018 – America has become multilingual, and local Boston businesses realize that to stay ahead of the game, they need to provide translation services for their non-English speaking customers. Day Translations, one of the world's most innovative translation companies, is now providing more help for Boston businesses.
Today, companies are using translation services, not only to increase revenue, but also to avoid breaking the law. Based on Title VI of the Civil Rights Act of 1964, organizations that receive federal funding are prohibited from discrimination based on race, color, or national origin, including the language a person speaks. This law is especially important for education facilities and any physician participating in Medicaid and Medicare.
Noticing a growth among their Boston clients, Day Translations decided to get more involved with the city, providing local Boston translation services. They opened an office in downtown Boston, making it their 5th physical location in the U.S. Now, Boston residents and visitors have the ability to meet in person with a translator or interpreter.
"Boston is a hub for academic talent. And the city's tourism economy is on a steady rise. Smart businesses see the value in both and are setting up headquarters in Boston. We hope that our new addition to the Day Translations offices will help Boston businesses globalize, through a greater understanding of other languages and cultures." – Sean Hopwood, President of Day Translations, Inc.
Day Translations, Inc. is a global, human translation company, honored in the 2018 Inc. 5000 as one of the fastest growing private companies in the United States. They help individuals, small businesses, and multinational corporations expand their global impact by bridging the language gap. Day Translations is passionate about language and grateful for the opportunities they've had to support humanitarian services, including providing interpreters during the Egyptian crisis of the Arab Spring and supporting Translators Without Borders.
Source: Day Translations
Powered by WPeMatico