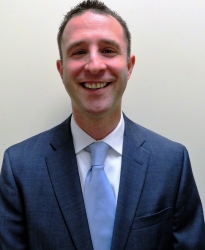 Hamilton, NJ, August 16, 2018 — Drew Rothman has been named a consultant within the National Environmental and Construction Professional Liability Practice Group at RT New Day, LLC (formerly New Day Underwriting Managers), a leading specialty intermediary of environmental and construction-related professional liability insurance coverages. He is responsible for identifying optimal risk management strategies for clients working in the construction, manufacturing, healthcare and commercial real estate industries.
"Drew's civil litigation and claims experience in the fields of architecture and engineering adds yet another layer of expertise to insurance brokers looking to navigate the complex commercial insurance marketplace," says Jeff Slivka, President, National Environmental and Construction Professional Liability Practice. "His in-depth knowledge of the claims management process, especially related to A&E incidents, will also help clients better understand the challenges faced on just about any jobsite and the protections currently available to insure against potential problems."
Prior to joining RT New Day, Rothman spent more than 10 years as a litigation attorney specializing primarily in construction, architectural and engineering cases at various law firms based throughout the greater Philadelphia, PA area. He also handled complex professional liability claims, inception through resolution, as a claims manager in the Architect and Engineer department of the Beazley Group in Philadelphia.
On the civic front, Rothman is Commissioner of Abington Township, Pennsylvania, Ward 3 and a member of the Board of Directors at the Abington Art Center. He is also the Vice-Chair of the Board of Commissioners' Public Works Committee and sits on its Public Safety Committee.
A resident of Abington, Pennsylvania, Rothman is a licensed attorney in Pennsylvania and New Jersey. He holds a Juris Doctor Degree from Rutgers University School of Law in Camden, NJ and a Bachelor of Arts Degree from Goucher College in Towson, MD.
Rothman can be contacted at 609.528.3907 or [email protected]
About R-T Specialty, LLC
RT New Day, a division of R-T Specialty, LLC, is a specialty resource for agents and brokers, assisting them and their clients find appropriate, high-quality environmental and construction-related professional liability insurance coverages. RT New Day offers agents and brokers single-point access to an ample portfolio of products and services provided by the nation's largest environmental and professional liability insurance providers. In California: R-T Specialty Insurance Services, LLC License #0G97516.
Powered by WPeMatico