Ingrid Vanderveldt prepares EBW for growth and scale; Chandini Portteus enters leadership in the for-profit tech space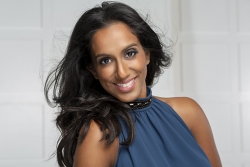 Austin, TX, March 08, 2019 — Entrepreneur and female tech pioneer, Ingrid Vanderveldt, Founder and Chairman, CEO, Managing Partner of Empowering A Billion Women Inc., and the EBW Foundation, MintHER, and Vanderveldt Global Investments, announces additions to the female empowerment group. As EBW grows in size and scope, Vanderveldt brings on new key hires including Former Livestrong CEO Chandini Portteus as President and Executive-in-Residence.
"EBW has 33 Chapters around the globe and is expecting to grow to over 100 by end of 2019. Bringing on the right corporate partners to help women start, grow and scale their businesses alongside EBW is critical. Chandini brings global relationships and expertise driving fast growth within mission driven organizations with social and economic impact creating jobs globally. This is exactly the expertise that will help take EBW to the next level of growth. I could not be more proud and honored to have Chandini and our other leadership hires here with us," says Vanderveldt.
Chandini Portteus is coming on as President and Executive-in-Residence (XIR) of EBW Inc. She is well known for her role as a C-level executive at Susan G. Komen, and more recently as the CEO for Livestrong and Wipe Out Kids' Cancer. With global, community, policy and science sector expertise she is a sought after growth strategist and implementor. Portteus will be leading the Inc.'s strategy, operations, and fundraising, as the company enters its next stage of growth and evolution. She is carrying the Executive-in-Residence title alongside President as she will additionally bring her non-profit expertise to help advise the newly launched EBW Foundation led by its CEO Anna McCoy.
"I am excited to take the next step in my own development of moving from the non-profit world into the for-profit sector with EBW as a mission driven social enterprise with a strong for-profit focus. I am thrilled to be able to inspire and work alongside women and our corporate and funding partners to help women globally start, grow and scale mission driven organizations with a profit focus," says Portteus.
Consistent with Portteus' executive style of valuing the team around her as her greatest asset, joining to work alongside Portteus at EBW is her trusted and experienced colleague, Diane Busbee. Busbee is a nationally known relationship builder and proven fundraiser with a keen eye for operations. Diane Busbee will be Director of Development for EBW overseeing revenue and operational initiatives.
Portteus stated, "Given EBW's rapid growth, I am excited and honored to bring my leadership to the Inc., as well as to our non-profit supporting women and girls globally. My own personal experience of empowerment was greatly influenced by having access to education and mentorship by many. That has instilled in me a passion and drive to advocate for women and girls globally, and to provide tools to help women leaders and entrepreneurs grow and scale."
You can see Chandini Portteus and meet Diane Busbee at their first public appearance happening on International Women's Day at SXSW. Portteus will be joining Vanderveldt and her colleagues at the United Nations Social Media Zone talking about their plans to reach the billion through STEM and creative capital (blockchain) based initiatives. Anna McCoy, CEO of the EBW Foundation and Shaillee Chopra, Managing Partner of Lumina Health partners and Chief Strategy Officer to EBW will be on the panel.
About EBW Inc.
Empowering a Billion Women by 2020 is the international brand campaign of EBW Inc. EBW Inc. connects women to the tools, tech and resources needed to succeed as leaders and entrepreneurs. EBW is building the world's largest community and database of qualified, trained, and vetted women and diverse led business owners. These women are seeking to grow their businesses with those partners who authentically care to see them succeed. EBW is that place they come together online and offline. Here they gain education, mentorship and financial know-how to earn & become qualified, trained and vetted to meet the needs of corporations and funders seeking to gain access to them. In addition to individual and community support, EBW provides coaching and consulting services for corporations and partners. EBW supports The EBW Foundation which is focused on empowering women and girls globally with special focus in developing countries. Together and with our partners, EBW Inc. and The EBW Foundation seek to meet the audacious goal of Empowering a Billion Women by 2020.
Powered by WPeMatico