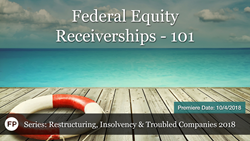 This panel of experts discusses why the use of receiverships is on the rise as well as how to leverage this important tool.
CHICAGO September 26, 2018
Companies fail all the time, for all sorts of reasons. Some companies become distressed, or even insolvent, because of mismanagement; others because of fraud; others for myriad other reasons- some intrinsic to the company and some extrinsic.
Regardless of the cause, failing or failed companies create a unique set of issues, risks, and even opportunities for all involved. This area of law and finance has become so specialized that no fewer than five (American Bankruptcy Institute; Association of Insolvency & Restructuring Advisors; Commercial Law League of America; National Association of Federal Equity Receivers; Turnaround Management Association) national organizations exist to help those who specialize in the field to stay up to date on the latest developments, strategies, and tactics in the area. This Financial Poise RESTRUCTURING, INSOLVENCY & TROUBLED COMPANIES 2018 webinar series provides an understanding of these issues and risks, in addition to guidance as to strategies for harnessing opportunities arising from these failing/failed companies.
The fifth and final episode of the series is Federal Equity Receiverships – 101 and airs on October 4th at 2:00 PM CST (Register Here) and features Moderator Jonathan Friedland of Sugar Felsenthal Grais & Helsinger. He is joined by Ira Bodenstein of Shaw Fishman Glantz & Towbin LLC, Kevin Duff of Rachlis Duff Adler Peel & Kaplan, LLC, and Gene R. Kohut of Conway MacKenzie, Inc.
A receivership is a legal tool available to a secured party and to certain government agencies. The use of receiverships is on the rise because it can offer the fastest and most cost-effective method of gaining control over a borrower's collateral upon default or another party's property in the case of wrongdoing. It is important to recognize that these two separate purposes really divides receiverships into two fundamentally different types: first, state court receiverships commenced in connection with real estate foreclosure actions; second, regulatory/equity receiverships requested by state and federal agencies, such as the SEC and FDIC.
This webinar discusses both types of receiverships, explains how they are commenced, how receivers are appointed, the powers of receivers, and a host of other details about this increasingly popular tool.
The RESTRUCTURING, INSOLVENCY & TROUBLED COMPANIES 2018 Series is produced by Financial Poise.™ All episodes will be available live through West LegalEdCenter and then on-demand following the live premiere.
As with every Financial Poise Webinar, each episode is delivered in Plain English understandable to investors, business owners, and executives without much background in these areas, yet is also valuable to attorneys, accountants, and other seasoned professionals. And, as with every Financial Poise Webinar, each episode brings you into engaging, sometimes humorous, conversations designed to entertain as it teaches. Each episode in the series is designed to be viewed independently of the other episodes, so that participants will enhance their knowledge of this area whether they attend one, some, or all episodes.
About Financial Poise™
Financial Poise™ has one mission: to provide reliable plain English business, financial and legal education to investors, private business owners and executives, and their respective trusted advisors. Financial Poise™ content is created by seasoned, respected experts who are invited to join our Faculty only after being recommended by current Faculty Members. Our editorial staff then works to make sure that all content is easily digestible. Financial Poise™ is a meritocracy; nobody can "buy" her way onto the Financial Poise Faculty.™ Start learning today at https://www.financialpoise.com/
Powered by WPeMatico