As the FinTech industry booms, there is still a shortage of FinTech and Blockchain training options. FinTech School and Golden Trust have partnered to deliver high quality training programs to Financial Institutions, Universities and NGOs in the Middle East in both English and Arabic.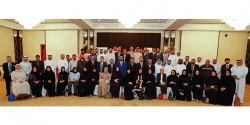 San Francisco, CA, September 19, 2018 — FinTech School offers practical FinTech and Blockchain training courses online and onsite through workshops anywhere in the world. Unlike traditional academic offerings which focus on theory, their approach is to hire entrepreneurs that are building FinTech companies to share their industry knowledge based on hands-on experience.
FinTech School has completed over twenty successful training programs delivered to Financial Institutions, Universities, Tech Firms and Non-Profits in the US, Middle East, Latin America and Asia.
"With operations in the US, China and Korea, FinTech School is looking to develop a strong presence in the Middle East via this partnership," said Amilcar Chavarria, CEO of FinTech School.
Ahmed Al Sakran, Managing Director of Golden Trust added, "We are excited to take this partnership to the next level by offering FinTech School programs to our clients across the GCC and MENA region, where Bahrain has been always the regional financial center and hub of financial service innovation and is home to the largest FinTech hub in the Middle East."
Golden Trust works closely with clients and partners to identify training and development needs while using a systematic approach to developing programs to ensure the maximum effectiveness and return on investment. By attracting international players in such innovative fields, Golden Trust continues to provide featured Training & Consultancy solutions since its inception in 2006 with enduring benefits and impact on strategy, operations and human resources.
This is the second time that FinTech School will be coming to the Kingdom of Bahrain. Last year, they were hosted by Kuwait Finance House and delivered a successful two day program in FinTech, Blockchain and Digital Banking Transformations.
FinTech School next local training program will be delivered this October in Manama, Bahrain and managed by Golden Trust. To be part of this exciting event, please write us an email at [email protected] with subject line: GCC FinTech Training.
Powered by WPeMatico