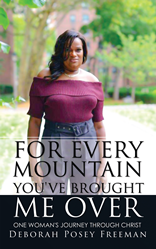 In this current climate where so many are clinging to hate, this book reminds that faith can move even the biggest mountain
MOUNT VERNON, N.Y. June 30, 2019
Within the pages of Deborah Posey-Freeman's new book, For Every Mountain You've Brought Me Over ($11.49, paperback, 9781545635858; $5.99, ebook, 9781545635865), readers will find a testimony of faith and resilience. This book details the life of Deborah Posey-Freeman from childhood to present, sharing the joys, pain, and incredible losses to the renewal and restoration of heart and spirit. This book gives new power to the saying "there is no testimony without a test."
Honest and relatable, readers will understand although things may happen that are beyond our control, our power and ability to move forward remains through Jesus. For Every Mountain You've Brought Me Over voices the stories of many women who are not attached to wealth and privilege.
For Every Mountain You've Brought Me Over grapples with everyday issues as well as big societal issues from the past and present, such as lack of economic opportunity, HIV/AIDS, aging, and education. Readers will understand the harsh realities of some Black women and how systemic structures make decisions on the lives of Black women and girls before they are even born.
"In this current climate where so many are clinging to hate, this book reminds that faith can move even the biggest mountain," says Posey-Freeman.
Deborah Posey-Freeman was born in New Rochelle, New York, the tenth of her mother's eleven children. She is a wife, mother, daughter, grandmother, caregiver, advocate, and lover of the Lord. She was honored, on her 60th birthday, with a proclamation from New York State by Senator Jamaal Bailey for her lifelong commitment to the city of Mount Vernon.
Xulon Press, a division of Salem Media Group, is the world's largest Christian self-publisher, with more than 12,000 titles published to date. For Every Mountain You've Brought Me Over is available online through xulonpress.com/bookstore, amazon.com, and barnesandnoble.com.
Powered by WPeMatico