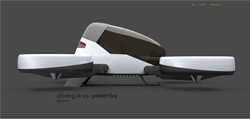 MUNICH, Germany September 18, 2018
For the first time in the 120 year history of the Paris Motor Show, a flying car will be on display. The vehicle is being developed by FLUTR (Flying Urban Transport), a German aerospace transport start-up. FLUTR is developing the vehicles and technology to enable safe, simple, quiet and inexpensive door-to-door aerial transport in an urban environment. FLUTR CEO Cameron Spencer says, "For all FLUTR fans, early adopters, would-be investors, partners and suppliers, frustrated drivers, and everyone else who wants to get into one of these babies as fast as possible, we are very excited that this transport alternative is finally receiving acceptance from the automotive industry and the general public."
FLUTR (pronounced "fluttr") has been invited to be a lead exhibitor at the Paris Motor Show, where it will emerge from "stealth mode" and debut it's feature vehicle, the FLUTR 1. FLUTR believes that because of the vehicles' strong styling and quiet innovative aerodynamics, it will become as ubiquitous as electric cars.
Cameron goes on to say "Why introduce FLUTR at a motor show and not say an airshow you may ask?
When one can fly your vehicle direct from your driveway to your workplace, client's workplace, school etc, there are lots of parallels to the automotive experience. The freedom to use door-to-door aerial transport is now as simple and intuitive as driving. As we engineer away the challenges of getting millions of people into these vehicles, coincidentally the forward thinking team at Paris Motor Show are also embracing this new aerial solution as the next evolution of the traditional 2- dimensionally restricted world of automobiles, investing in a large Urban Mobility display and seminar. Only a few years ago this idea was seen as completely crazy, but recently more and more people are becoming open-minded to the possibility. With 1.2million visitors at the Paris Motor Show, this is a great opportunity for drivers to get familiar with their FLUTR- their next mode of transport, automotive purchase, and is some cases automotive replacement.
Dates:
Press: 2nd-3rd October 2018
Main attendance: 4th-14th October 2018
October 7, 8, 9, 13, 14: 10 am – 8 pm.
October 4, 5, 6, 10, 11, 12: 10 am – 10 pm.
Location: Mondial De L'Auto, Paris
2 Place de la Porte de Versailles, 75015 Paris (3km South of Eiffel Tower)
Booth A01, Pavilion 2.2
Reveal date/time: Press: 2 and 3 October 2018 (time to be announced)
Public: 4 October 2018 (time to be announced)
FLUTR would love to meet you if you're in the neighborhood, and show you your new vehicle!
Or you can follow along via Twitter(@flutrmotors) or Insta (flutr_motors).
Powered by WPeMatico