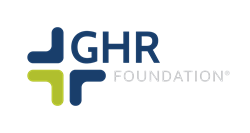 "It's humbling to support this group of innovators who are local in their work, but global in their ideas and ambitions to shift the development paradigm," said Amy Goldman, chief executive officer and chair of GHR Foundation.
MINNEAPOLIS October 01, 2018
BridgeBuilder Challenge 2018 Top Idea winners are working on solutions that span harnessing technology to help preserve ancestral land from illegal use; employing low-income bilingual women as medical interpreters while improving healthcare outcomes; addressing future global food demands while supporting youth leadership in agriculture; developing market-based opportunities for youth in fragile economies; and empowering women to prevent domestic abuse and connect victims with services.
The five 2018 BridgeBuilder Top Ideas will receive a share of US$1 million and ongoing collaboration with GHR Foundation. The Challenge seeks ideas addressing urgent global concerns at the intersections of peace, prosperity and planet in radically new ways. Participants from 185 countries responded with more than 675 ideas.
The 2018 Top Ideas cohort announced today include:
1. Equipping indigenous peoples with mobile technology to protect land rights. TIMBY (This Is My Backyard) is an app being deployed in Kenya for the Sengwer people to protect their ancestral lands with geostamped and evidence-based reporting, including uploading encrypted videos and photos of land use issues. The Sengwer community will own a growing database about their lands — maps, evictions and court rulings – which can be shared with stakeholders to increase transparency and effective dialogue.
2. Empowering low-income bilingual women as medical interpreters to fight healthcare disparities. An organization founded by an immigrant, Found in Translation is helping other immigrants and bilingual speakers in the Boston area by training them as medical interpreters to bridge the gap between immigrant communities and the health care system. The expanded program will train and employ more low-income women as medical interpreters, who in turn help families navigate the healthcare system, meet hospitals' needs for medical interpreters, and improve medical outcomes.
3. Unleashing the potential of rural youth to drive sustainable small-scale agriculture. Producers Direct will support youth careers in farming by providing access to financing, youth exchanges and training in digital tools while offering reciprocal mentoring relationships with older smallholder farmers in Kenya, Uganda and Tanzania. Helping youth to see agriculture as a viable economic path will help address future employment shortages in countries with young populations, while also promoting sustainable food systems.
4. Investing in young peace-building entrepreneurs in South Sudan via cash transfers and start-up grants. War Child Canada aims to promote peace and collaboration among small groups of multi-ethnic youth in South Sudan. Youth from diverse backgrounds will work together to assess local market opportunities and initiate group businesses and community savings groups. Their learning and entrepreneurial efforts will be supported by direct cash transfers to assist in meeting basic household needs and small business start-up grants.
5. Mobilizing women-led community transformation for families facing domestic violence. My Choices Foundation is training local women in a neighborhood near Hyderabad, India that faces acute domestic and child abuse to serve as PeaceMakers, providing free counseling, rights education and legal aid to women and families. The program is empowering local women to help other women and children in a culturally-focused way.
"It's humbling to support this group of innovators who are local in their work, but global in their ideas and ambitions to shift the development paradigm," said Amy Goldman, chief executive officer and chair of GHR Foundation. "The BridgeBuilder Challenge seeks out and elevates promising ideas, providing them with seed funding to test new approaches and prove out solutions to some of the world's most urgent needs."
The 2018 BridgeBuilder Challenge was developed in partnership by GHR and OpenIDEO, the open innovation practice from global design firm IDEO. OpenIDEO enables people worldwide to come together and create solutions for societal problems that are too big to solve alone.
"We believe there's incredible value in how open innovation enables anyone, anywhere to join efforts to address critical problems," said Jason Rissman, OpenIDEO Managing Director. "Through BridgeBuilder, GHR and OpenIDEO are deeply engaging the global community, learning and iterating to help the social sector become more open and innovative."
What Happens Next for 2018 Top Ideas: Convening and Collaboration
The 2018 Top Idea winners will participate in their first cohort convening in Rome in November to meet each other, share ideas, and continue the open collaboration and cross learning approach of the BridgeBuilder Challenge. In addition to sharing learnings as a group throughout the duration of their projects, the winners will be supported by GHR and its network of experts and partners to continue to refine and build out their individual ideas.
Learn more about what's new in the 2018 Challenge and watch the video to learn more about this year's BridgeBuilders.
GHR Foundation: GHR Foundation improves lives by working toward a just, peaceful and healthy future. Built on faith in entrepreneurial creativity, the foundation accelerates systemic change by nurturing promising new possibilities and partnerships in the areas of global development, education and health. For 50-plus years, GHR has been pioneering design-build philanthropy as it collaborates with community experts to design and build opportunities and favorable environments for change to take hold. http://www.GHRfoundation.org
Powered by WPeMatico