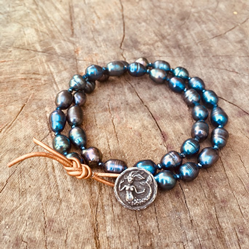 The artisan jewelry brand wins over the Mind Body Spirit Industry with its Mermaid Soul Pearl Wrap Bracelet
"As a child, I used to dream about being a mermaid. They are fierce, beautiful and free to make waves," said Gogh Jewelry Design founder, Szilvia Gogh. "My jewelry is about mystery and individuality. They beckon the free spirit in every self-made woman."
SAN MARCOS, Texas June 25, 2019
Los Angeles-based Gogh Jewelry Design is honored to announce it was named a Bronze Award Winner in the 22nd Annual Visionary Awards. The handcrafted jewelry brand accepts the accolade in the Jewelry with Stones Category for its Mermaid Soul Pearl Wrap Bracelet.
Voters were captivated by the bracelet's stunning arrangement of freshwater pearls alternating with midnight dark crystals. A soft leather knot closure and silver mermaid button with an antique finish completes the piece.
The bracelet stood out for representing both opulence and sentimental value – a philosophy that Gogh Jewelry Design founder and designer Szilvia Gogh strives to create with all of her pieces. For Gogh personally, the mermaid has inspirational significance.
"As a child, I used to dream about being a mermaid. Mermaids have the ultimate superpower in my mind. They are fierce, beautiful and free to make waves," she said. "My jewelry (especially the mermaid pieces) is about mystery and individuality. They beckon the free spirit in every self-made woman."
Gogh herself is considered a "Renaissance Woman." In addition to her role as entrepreneur and jewelry designer, she's a scuba diver, stunt woman, and photojournalist. As an avid traveler, her handmade jewelry includes curated materials from her travels.
Just as Gogh is unique in her market, the Visionary Awards are one-of-a-kind in their own industry. The event was sponsored by the Coalition of Visionary Resources (COVR), a trade association representing the Mind Body Spirit industry. Entries are selected from among the best products and both COVR members and non-members are eligible to compete.
New this year, categories were judged by both the retail members of COVR and the general public. Votes from COVR's retail members accounted for 60 percent of the total score while votes from the general public made up the remaining 40 percent. The rules changed so entrants could have more marketing potential of their products and draw more of an audience to get involved.
About Gogh Jewelry Design: For jewelry designer Szilvia Gogh, pieces can be beautiful and say something too. This is the philosophy you'll find within the collections of Gogh Jewelry Design. Szilvia Gogh is a multi-talented world traveler. She's a scuba diving instructor and the youngest female in the world to become a PADI Course Director. She's a photojournalist with her own media company, Miss-Scuba.com. Gogh is also an accomplished stunt woman. Creating and designing inspirational jewelry from all of her endeavors led her to her enterprise Gogh Jewelry Design. In addition to her many hats, Gogh is a proud mentor. For the past 15 years, she has volunteered working with "at-risk" youth in Los Angeles.
About COVR: COVR is the trade association for the Mind Body Spirit industry. It supports the success of members by providing education, mentoring, discounts and targeted networking. The COVR Visionary Awards are given to outstanding individuals, companies, and products in the Mind Body Spirit industry. These awards are the only awards of their kind in the industry.
For more information, visit https://goghjewelrydesign.com/ or contact [email protected].
Powered by WPeMatico