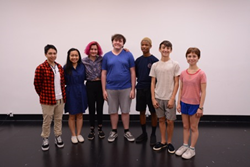 2018 Herb Alpert Emerging Young Artists $40,000 Scholarship Recipients – From L to R: Andy Pineda, Celine Nguyen, Naseem Alavi , Jordan Tierney, Miles Potter, Felix Stec, Bailey Small. Credit: CSSSA
During my time there, I've learned my worth as not only a musician but an artist. I'm glad to say that I made the right choice to choose to live the CSSSA experience before I start college.
September 17, 2018
The Herb Alpert Foundation and the California State Summer School for the Arts (CSSSA) are pleased to announce the 2018 recipients of the annual Herb Alpert Scholarships for Emerging Young Artists (EYA Awards). The Herb Alpert Foundation annually provides 21 scholarships for CSSSA students in seven disciplines: animation, creative writing, dance, film, music, theatre and visual arts. This visionary, long-term support from The Herb Alpert Foundation has provided over $3 million in college scholarship funding to date, fostering the creative spirit of these talented youth, and empowering them to grow and become vital members of their community.
The top-performing student in each arts discipline is awarded $40,000 over the course of four years to complete university-level study. Additional one-time awards of $2,500 are awarded to two high-achieving students from each of the seven disciplines. This comprises a grand total of $340,800 in scholarships awarded to CSSSA students for 2018 alone.
This year, each student who earned the $40,000 award is from an underserved community and rose to the top. Celine Nguyen is an 18-year-old student from Arcadia, California, and is a driven vocalist and accomplished pianist. Early in the summer, Celine had the opportunity to begin college at the American Music and Dramatic Academy, LA, but instead decided to attend CSSSA where she earned the $40,000 scholarship. With the help of her EYA award, she'll be attending school in the fall with far less debt. Music Chair, Jose Soto said that Celine was the kind of student who "gets in trouble for practicing too long." Celine notes:
"During my time there, I've learned my worth as not only a musician but an artist. I'm glad to say that I made the right choice to choose to live the CSSSA experience before I start college. CSSSA to me is more than just 'a summer intensive' or 'a summer camp.' It's a different perspective on life. It's a home away from home, and friends and teachers are now more than just companions. They're my family. My CSSSA family and I wouldn't trade this experience for the world."
Beyond the commitment to the college scholarships, The Herb Alpert Foundation also provides an annual gift of $40,000 to CSSSA to support low-income, financial need scholarships. Established as a unique public-private partnership, the CSSSA Foundation works alongside CSSSA to ensure that no qualified student is denied access to CSSSA due to financial hardship. By opening the doors for youth through generous partners like the Herb Alpert Foundation, access and opportunity are provided for students that would otherwise not have the opportunity to attend the powerful and transformative CSSSA summer program. Once at CSSSA, they gain the possibility of being awarded one of these prestigious, life-changing college scholarships.
CSSSA is a four-week, intensive pre-college program for talented and motivated high school students in the arts, held on the California Institute of the Arts (CalArts) campus in Valencia. CSSSA has an annual student body of over 500 young artists from California and an additional 20 students admitted from other states and countries. Approximately 40% of students receive financial aid to attend the summer arts program each year. CSSSA offers a unique opportunity for students to spend one month immersed in a creative laboratory experiencing the inspiring and rigorous daily life of a professional artist.
Michael Fields, Director of CSSSA, says, "The Herb Alpert Emerging Young Artist Award is crucial to these students as they have what it takes to be successful in the arts. It not only provides the financial support to attend college without the weight of incurring massive debt, but it is also proof of the importance of their voice and a direct pipeline to their creative future."
"We are dedicated to serving young people to help them reach their potential and lead productive, fulfilling lives replete with empathy, compassion, mutual respect, tolerance and kindness," says Rona Sebastian, President of the Herb Alpert Foundation. "CSSSA provides high school students the opportunity to hone their skills while opening minds to new perspectives and nurturing confidence and community."
Applications will be available for CSSSA Summer 2019 beginning December 2018 at http://www.csssa.org. To learn more about the Herb Alpert Scholarship for Emerging Young Artists, our alumni program, or to donate, visit csssaf.org.
###
MEDIA INQUIRIES
For Herb Alpert Foundation: Caroline Graham, C4 Global Communications | caroline(at)c4global.com | 310.899.2727 |
For CSSSA: Heidi Kershaw, CSSSA Foundation, Executive Director | heidi(at)csssaf.org | 571.277.7482
Powered by WPeMatico