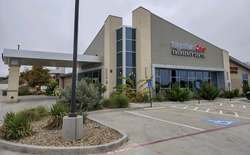 "All a parent has to do is ensure that these types of products are not left unsecured or left in places where the children can get to them."
HOUSTON June 19, 2019
Personal care products are designed to make us look, feel and smell better, but a Houston Emergency Room (ER) physician is cautioning parents that left in plain sight, they can become dangerous to children.
Aaron Braun, DO, a board-certified emergency room physician with SignatureCare Emergency Center in Houston, TX, said products like shampoo, lotion, makeup, nail polish, cologne, hot combs and more, should never be left exposed to children.
"Parents have the tendency to leave these types of products in plain site on bedroom dressers and bathroom counters because these are used every day. The problem is that these products can lead to injuries if ingested or handled by children," he said.
Dr. Braun was reacting to a new study by researchers at the Center for Injury Research and Policy at Nationwide Children's Hospital which found that 64,686 children younger than five years were treated in U.S. emergency rooms between 2002 and 2016 for injuries related to personal care products.
That is a rate of one child visiting an emergency room in the U.S., every 2 hours, according to the study published in Clinical Pediatrics.
Rebecca McAdams, MA, MPH, co-author of the study and senior research associate in the Center for Injury Research and Policy, said younger children can't read product labels and are not able to understand they can be harmed by the products.
"When you think about what young children see when they look at these products, you start to understand how these injuries can happen. Kids this age can't read, so they don't know what they are looking at.
"They see a bottle with a colorful label that looks or smells like something they are allowed to eat or drink, so they try to open it and take a swallow. When the bottle turns out to be nail polish remover instead of juice, or lotion instead of yogurt, serious injuries can occur," McAdams said.
The study revealed that children are harmed when they swallow the products (75.7%) or when the products touch their skin which leads to poisonings (86.2%) and chemical burns (13.8%).
The report states that of the more serious injuries that required hospitalization, more than half were from hair care products (52.4%) with hair relaxers and permanent solutions leading to more hospitalizations than all other products.
Nail care products (28.3%), hair care products (27.0%), and skin care products (25.0%), followed by fragrance products (12.7%) were the leading sources of injuries to children. Nail polish remover was the individual product that led to the greatest number of visits to the emergency room -17.3% of all injuries, according to the study.
Dr. Braun said while these injuries are common, they are easily avoidable.
"All a parent has to do is ensure that these types of products are not left unsecured or left in places where the children can get to them. It's easy to use these products and walk away especially in the mornings as parents rush off to work or to take care of other daily responsibilities. But taking a few minutes to put them away and out of the reach of children can save a lot of heartaches later," he said.
About SignatureCare Emergency Center
Houston, TX based SignatureCare Emergency Center has 24-hour emergency rooms (ER) in various Texas cities including Houston (Westchase, Heights, Memorial City, Montrose, Copperfield and Cypress/FM 1960), Mission Bend/Sugar Land, Bellaire, Stafford, Killeen, Austin, College Station, Midland, Odessa, Paris and Texarkana.
Go to our website, https://ercare24.com for more information.
Powered by WPeMatico