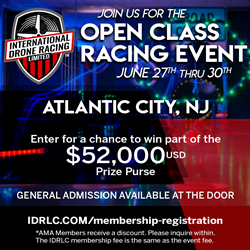 ATLANTIC CITY, N.J. June 20, 2019
The Suntuity Group of companies has announced its sponsorship of the IDRLC (https://IDRLC.com) Open Class and Brushed Micro Racing series with its first event to be held at the Atlantic City Convention Center in New Jersey from June 27th to June 30th, 2019. The event will be one of the largest of its kind both due to the course design and the prize purse. Suntuity's AirWorks division will co-host several such events across the US in 2019. Suntuity AirWorks provides drone financing and UAV services through its nationwide network of operators and dealers and is on the forefront of drone and UAV technologies.
International Drone Racing Limited (IDRLC) is a drone racing championship organization dedicated to bringing exceptional drone pilots together and encouraging their talent.
The IDRLC held its first major event on Atlantic City's North Beach over Father's Day weekend. The race drew in a multitude of drone racers from the US, Korea, Italy, Australia and several other countries outside of the United States. The IDRLC anticipates an even bigger turn out for the indoor events, with current top global racers including Evan "headsupfpv" Tuner, Soren "phatkidpv" Monroe Anderson, Patrick "engiair" White, SunJu Park, Mark "shelbyvoll" Vollrath, Jason "vango" Glaze, and Anthony "blitz" Gennello.
Open Class Racing and Brushed Micro Quad Racing will both be held on a 300,000 square foot indoor racing course at the Atlantic City Convention Center from June 27th-June 30th, over the same weekend as the Vans Warped Tour located just a few minutes away on the beachfront. The event is being organized with one of the largest indoor racing courses and prize pools in US history ─ and the first of its kind in Atlantic City.
The event will incorporate a professionally designed, highly challenging course with multiple race lanes established for simultaneous flights. With a much larger $52,000 prize pool than the initial Spec Wing Race, first and second place winners will receive $17,000 and $12,000, respectively. The prize pools are being sourced through the IDRLC's sponsorship with Suntuity.
Spectators who attend the event to watch the races will also be able to fly micro drones with the assistance of professional racers. Tickets to the event can be purchased at the door or through Ticketmaster.
During the Open Class event, the Atlantic City Convention Center will also provide drone certification details offered by the Suntuity University, the comprehensive drone and solar academy training division of the Suntuity Group of companies.
To stay up to date on the IDRLC, please visit us online at https://IDRLC.com and Facebook, Instagram @iDroneRacing, Twitter @DroneRacingLC & LinkedIn.
To stay up to date on Suntuity, please visit us online at https://suntuitygroup.com and https://suntuitysolar.com, and Facebook, Instagram @SuntuitySolar, Twitter @SuntuitySolar, & LinkedIn.
To stay up to date on Suntuity AirWorks, please visit us online at https://suntuityairworks.com and Facebook, Instagram @SuntuityAirWorks, Twitter @SuntuityAirWork & LinkedIn.
About IDRLC
International Drone Racing Limited (IDRLC) was founded with one purpose: To unify and encourage all drone enthusiasts to be the best they can be at their profession or hobby. With members that span across the world, IDRLC is a multicultural organization that hosts racing events in multiple countries. To submit inquiries and interest in participating in IDRLC's upcoming events, please fill out your information at http://www.idrlc.com/contact. If you're interested in hosting an IDRLC event in your country or state, please reach out to Media Relations at [email protected]
About Suntuity Group
The Suntuity Group is a conglomerate of renewable energy, finance, technology and UAV service companies that has developed, built and managed assets of 250+ megawatts of energy projects across the globe. Founded in 2008 and headquartered in Holmdel, New Jersey, the Suntuity Group currently operates in 8 countries and 10 US states. For more information, please visit: https://suntuitygroup.com.
About Suntuity AirWorks
Suntuity AirWorks is the UAV and Drone services division of the Suntuity Group of Companies, with drone and UAV service offerings in multiple countries and across the US. Its hardware and software platforms deliver state of the art industry-specific solutions from DJI, FLIR, Berkley and other reputable organizations. For more information on Suntuity AirWorks and its Dealer Program and Training Academy, please visit: https://www.suntuityairworks.com.
Powered by WPeMatico