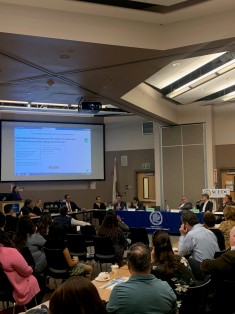 Amidst the announcement of UK Prime Minister Theresa May's resignation, San Diego and Ireland look to a future of stronger European ties and relations between the two
Press Release – updated: May 24, 2019 18:48 PDT
SAN DIEGO, May 24, 2019 – Friday, panelists and community members came together to connect and expand on the budding partnership between San Diego and Ireland. The South County Economic Development Council organized the Ireland Business Forum at the South County Regional Education Center with event sponsors, the Consulate General of Ireland, the Irish International Business Network and the San Diego World Trade Center. The event gathered Irish business leaders and San Diegans alike to start a dialogue about the economic, cultural and business opportunities presented by a partnership.
Among the panel were Robert O'Driscoll, Consul General of Ireland, Western United States; Paul Roben, Associate Vice Chancellor, Innovation & Technology Commercialization, UCSD; Ken Bahen, VP Sales and Marketing, Systran Software Inc.; Dermot O'Shea, Joint CEO, Taoglas Group Holdings, President Taoglas USA; Paul Burfield, Senior Vice President, Enterprise Ireland; Susan Hayes, Co-Founder of BECK Search.
The link between San Diego and Ireland has been informally established prior to the business forum. Currently, there are 32 Irish firms in San Diego which have created 4,389 jobs with an average wage of $62,000, as well as several well-known, San Diego-based companies currently linked with Ireland.
San Diego-based genomics company Illumina was selected for the Irish Cattle Breeding Genomic Program. ViaSat, an American communications company based in Carlsbad, opened a new office in Dublin, Ireland. Nabriva, an Irish Biopharma company based in Dublin, acquired San Diego pharmaceutical developer Zavante for $27 million, just to name a few.
"There is no surer partner for San Diego, for California, for these United States, no firmer friend than Ireland," said O'Driscoll in his opening remarks. "In a post-Brexit world, which seems relevant to be thinking in that context this morning, Ireland will continue to be that place that connects the U.S. and Europe, providing a gateway as envisioned by our forefathers."
O'Driscoll cited that each week, the flow of trade between Ireland and the United States is over $2 billion. He also announced that for the first time, Ireland will be placing a new consulate in Los Angeles, California, as a part of an initiative called "Global Ireland 2025." The purpose of the government initiative is to double the scope and impact of Ireland's global footprint from now to 2025.
The new Los Angeles location will be a center for international relations, trade, business and cultural promotion. This will be the first added consulate office west of the Rocky Mountains since 1923. The additional consulate will make California the first and only state to have two Irish consulate offices, one in San Francisco and the upcoming Los Angeles location. Set to open in Summer 2020, the new Irish Consulate office will be the first with a dedicated cultural officer on staff.
Among other topics discussed were the announcement of the U.K. Prime Minister Theresa May's resignation, the possible barriers between Irish and San Diegan business relations, and desired outcomes of fostering the international bond.
"If companies are leaving the U.K. because of Brexit, come to Ireland. I'm glad Theresa May resigned," said Dermot O'Shea. O'Driscoll went on to state several stats about the current flourishing economic environment in Ireland including Ireland being number four in Foreign Direct Investment (FDI), the employment rate at 67 percent and Ireland being ranked eleventh in global scientific research.
Potential barriers to engagement between San Diego and Ireland were conversed, among them were the procurement of a travel visa for Irish people to come to Southern California, increasing awareness of the partnership, maintaining consistent communication and developing an objective plan of action.
Opportunity that exists includes research collaboration between major San Diego and Irish biotech and biopharma companies, Ireland being the last English-speaking county in the EU, the fast-growing Irish economy and the upcoming Consulate General of Ireland location in Los Angeles.
ABOUT SCEDC
The South County Economic Development Council (South County EDC or SCEDC) is a non-profit organization formed in 1989 by a group of South San Diego County business and community leaders to promote education and encourage economic development in the South San Diego County Region. Their member cities include Chula Vista, Coronado, Imperial Beach, National City, San Diego, San Diego County and the Port of San Diego. They work with their partners in the northern portion of Baja California in the cities of Mexicali, Tijuana, Tecate, Rosarito and Ensenada.​
Source: South County EDC
Powered by WPeMatico