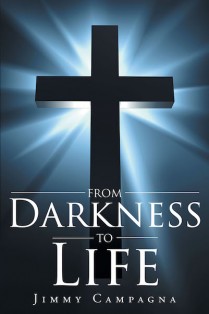 Recent release 'From Darkness to Life' from Covenant Books author Jimmy Campagna is a riveting narrative that delves into a man's eventful life from a misguided childhood to maturity revolving around God's grace.
Press Release – updated: Jun 14, 2019 03:00 EDT
EASTPOINT, Fla., June 14, 2019 – ​Jimmy Campagna, a native and football legend from Rochester, New York, moved south to play football at the University of Georgia where he set several records and still holds a record for the longest punt return TD of one hundred yards. Jimmy joined the US Air Force as a first lieutenant/navigator and worked for over 30 years as an urban planner and industrial developer in Atlanta, Georgia with the US Department of Commerce. After retiring, Jimmy moved to St. George Island, Florida. He is married with three sons and daughters-in-law, seven grandchildren, and seven great-grandchildren. Jimmy has completed his new book, "From Darkness to Life": an engrossing book that shares a man's life that reflects personal and spiritual triumph from struggles of doubt, negligence, and pain.
Jimmy writes, "Six-year-old Michael Tillman had the perfect life with his adoring parents until a sudden tragedy changed his life forever. With the death of his mother and father, Michael was sent to live with his grandparents in South Georgia and had to learn to adjust to his new, broken world. His grandfather, Judge Tillman, was an extremely wealthy and powerful man but lacked the ability to nurture and discipline his grandson properly. Michael was spoiled and pampered by his grandparents, but growing up without guidance and principles led him down many destructive paths. As he faced serious challenges in his life, Michael consistently blamed God for his pain and difficulty. At an especially low point in his life while Michael was in high school, he met Jennifer who would forever change his life. They came from different worlds with completely different values and beliefs, but with Jennifer's help, Michael began to see the world as she did: with hope and purpose."
Published by Covenant Books of Murrells Inlet, South Carolina, Jimmy Campagna's new book is filled with virtues of courage and determination that inspire the heart and mind.
"From Darkness to Life" is a powerful declaration of how the Lord looks out for those who open up to his love and mercy.
Readers can purchase "From Darkness to Life" at bookstores everywhere, or online at the Apple iTunes store, Amazon, or Barnes and Noble.
Covenant Books is an international Christian owned and operated publishing house based in Murrells Inlet, South Carolina. Covenant Books specializes in all genres of work which appeal to the Christian market. For additional information or media inquiries, contact Covenant Books at 843-507-8373.
Source: Covenant Books
Powered by WPeMatico