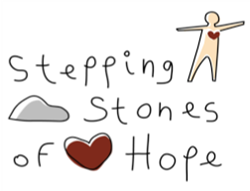 PHOENIX August 24, 2018
Change is difficult for everyone; accepting the death of a loved one, on top of all the normal changes life brings, is probably the most difficult to understand. Learning how to cope and accept these changes is important for navigating your path of grief. It has been said, "A journey of a thousand miles begins with a step." Stepping Stones of Hope can help you take that first step.
Journeys – Pathways to Healing is a grief camp designed specifically for adults. Hosted by Arizona-based nonprofit Stepping Stones of Hope, the next Journeys camp is planned for Saturday, September 22nd through Sunday, September 23rd at Spirit in the Desert in Carefree, AZ. The two-day camp helps grieving adults better understand and manage their personal grief after the death of a loved one.
Stepping Stones of Hope established programs, like Journeys, to give those whose lives have been disrupted by the death of a loved one an opportunity to be around other people who share a similar experience.
Journeys is only one of many grief camps offered throughout the year by Stepping Stones of Hope. The organization is dedicated to providing a variety of comprehensive, support-based programs and camps, as well as continuing care and education, to grieving children, teens, families and adults throughout the community and across the state.
For more information or to register for this camp, please email Diane Raden at dianer(at)steppingstonesofhope.org or Ana Milender at anam(at)steppingstonesofhope.org, or or call 602-264-7520. You may also register online at http://www.steppingstonesofhope.org.
Powered by WPeMatico