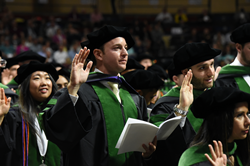 "The 100 percent match is not something all medical schools are able to accomplish," said Josh Cox, DO, associate dean of Clinical Education. "It speaks to the high caliber and competitive nature of our students."
KANSAS CITY, Mo. June 20, 2019
The final numbers for medical school residency are in, and the Kansas City University (KCU) 2019 graduating class of osteopathic physicians has achieved a 100 percent match into residencies.
Every student who graduated from Kansas City University is now employed by a residency program in order to advance their medical training.
"The 100 percent match is not something all medical schools are able to accomplish," said Josh Cox, DO, associate dean of Clinical Education. "It speaks to the high caliber and competitive nature of our students."
By comparison, the match rate for osteopathic medical schools (DO) overall is 96.6 percent. For allopathic medical schools (MD), the rate is 93.9 percent.
Of the 235 KCU graduates, 100 or 42.98 percent entered primary care specialties. Other specialties included ophthalmology, plastic surgery, orthopedic surgery, psychiatry, dermatology, obstetrics & gynecology and emergency medicine.
This achievement comes at a time when the competitiveness for these positions continues to increase. As enrollment in medical schools is on the rise, the ability of residency positions to keep pace remains a major concern — in large part due to a longtime cap on Medicare-funded training positions, which have been frozen at 1996 levels.
The length of residency training is 3-7 years depending on the specific specialty. Some specialties offer an extended fellowship training of an additional 1-3 years.
According to Cox, achieving a 100 percent match is not only an accomplishment for each graduate who secured a residency, but for all of those at KCU who have educated and supported these new physicians on their journey through medical school.
"Hearing what programs and what specialties our students matched into is very exciting and rewarding for the faculty who taught these students during their time at KCU," Cox said.
About Kansas City University
Kansas City University, founded in 1916, is a regionally accredited, not-for-profit private health sciences university with a College of Biosciences and a College of Osteopathic Medicine. The College of Osteopathic Medicine is the ninth largest medical school in the nation and the leading producer of physicians for the State of Missouri. KCU opened a second medical school campus in Joplin, Mo. in 2017 to help address the growing need for physicians in the region's rural communities. The University also added a doctoral program in clinical psychology in 2017 to meet the growing demand for behavioral health providers in the region.
Powered by WPeMatico