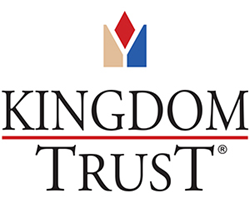 CEO Matt Jennings will be a panelist on one of the most talked about topics–custody and security–in the world of digital assets.
SIOUX FALLS, S.D. October 04, 2018
Kingdom Trust, the first regulated financial institution to offer qualified custody for digital asset investments like Bitcoin and Ethereum, will speak at the upcoming Digital Asset Strategies Summit (DASS) in Dallas, TX, from October 16-17. The session is the premier "allocators only" all-in-one, 2-day due diligence event for digital assets.
CEO Matt Jennings will be a panelist on one of the most talked about topics–custody and security–in the world of digital assets. The "Securing Your Digital Asset Investment" session will discuss the risk factors associated with investing in cryptocurrency. Mr. Jennings propelled Kingdom Trust into the digital asset market as the first qualified custodian of cryptocurrencies, which are backed by Lloyd's of London when held at Kingdom Trust.
The panel (from 11:00-11:55 a.m. on October 17, 2018) will be moderated by Lex Sokolin, Partner and Global Director for Fintech Strategy at Autonomous Research, and will include additional panelists from Digital Asset Custody Company (DACC), Xapo and BitGo. Each company offers a unique approach to custody solutions. The panel is expected to answer questions including
Are cryptocurrencies tokens or securities?
Other than putting your key in a safe, what other options are available?
What are the differences between, as well as the advantages/disadvantages of, cold wallets and hot wallets?
What sort of offerings exist from custodians?
How do you determine the right solution for you?
What are the differences between the various providers?
What is the best way of valuing these assets, and what are the pricing mechanisms?
Kingdom Trust leverages technology to provide customized and innovative custody solutions for institutional clients including alternative asset investments. As a qualified, independent custodian, Kingdom Trust provides over 100,000 clients (with over $12 billion in assets under custody) a level of security, accounting, reporting and insurance for digital currencies not found elsewhere in the marketplace. The company's initial platform accommodated custody for four digital currency assets but now provides custody services for over 30 different assets, including Bitcoin, Bitcoin Cash, Bitcoin Gold, Ethereum, Ethereum Classic, Litecoin, Ripple and recent additions of ZCash and Stellar Lumens—with many more on the horizon.
About Kingdom Trust
Kingdom Trust is a state-regulated public trust company. For nearly a decade, the firm has assisted clients with regulatory compliance by serving as a qualified custodian and specializing in a variety of asset classes. As the pioneer of digital asset custody, its experience and knowledge help provide clients with secure and compliant custody. Unlike other firms in the marketplace touting they provide "custody" or "institutional custody" but are not qualified custodians or regulated financial institutions, Kingdom Trust meets the qualifications required by regulators of institutions and asset managers, including the oversight and audits assuring underlying assets are held in proper safekeeping with the necessary audit trails and record-keeping. To learn more about Kingdom Trust and its qualified custody program, visit KingdomTrust.com or email Business Development at Sales(at)KingdomTrust.com.
About Digital Asset Strategies Summit (DASS)
DASS is exclusively for family offices, hedge funds, institutional investors, financial advisors, accredited investors, venture capitalists and private equity funds. The Summit offers critical research and insight for institutional investors on areas such as risk management, valuation, security and portfolio construction of digital assets. CFP professionals earn 7 hours of continuing education (CE) attending DASS.
http://www.DigitalAssetStrategiesSummit.com
Powered by WPeMatico