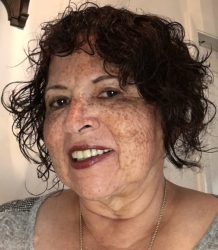 Lehigh Acres, FL, October 10, 2018 — Lillian S. Johnson of Lehigh Acres, Florida has been recognized by P.O.W.E.R. (Professional Organization of Women of Excellence Recognized) for her outstanding contributions and achievements in the field of homeopathics. These women are up and coming in their professions. They have shown exceptional growth in a short period of time. We view these women as emerging leaders who inspire and motivate others to reach for the stars.
About Lillian S. Johnson
Lillian S. Johnson of Lehigh Acres, Florida is honored as the Inventor of Cramps-B-Gone, a homeopathic drink to alleviate leg and other cramps. She came up with the recipe when she started getting leg cramps in her 60s after standing on her feet all day. With a patent pending, Cramps-B-Gone is a proven drink which helps athletes and others who experience leg cramps. She has been overseeing the operations of Josat, Inc. for the past three years, which manufactures and delivers the product.
Previously, Ms. Johnson served as a teacher for 43 years, specializing in reading. She received her B.S. in Elementary Education from West Chester University in 1965, her M.Ed. in Psychology of Reading from Temple University in 1978 and an additional degree in Educational Leadership from Nova University in 1988.
Currently, Cramps-B-Gone is being used not only by football players, but other sports enthusiasts as well. This product does not need to be refrigerated, which is a plus in the sporting world.
In her spare time, Ms. Johnson enjoys genealogy, reading, dancing and bowling.
Her favorite quote is: "Cast your bread upon the waters: for thou shalt find it after many days." – Ecclesiastes 11:1.
For further information, contact www.crampsbgone.com.
About P.O.W.E.R. (Professional Organization of Women of Excellence Recognized)
P.O.W.E.R is a website as well as a digital and print magazine featuring professional and famous women. Our mission is to provide a powerful network of empowering women who will mentor and inspire each other to be the best they can be. Through our valuable services, our members can collaborate with like-minded professionals, gain recognition and obtain knowledge from those who have already achieved success.
Powered by WPeMatico