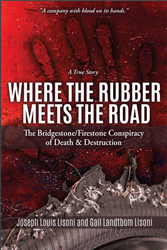 This book tells the story of the largest privately financed defective tire recall campaign in U.S. history
GRASS VALLEY, Calif. May 25, 2019
Husband-and-wife law team Joseph Lisoni and Gail Lisoni spearheaded the Bridgestone/Firestone Steeltex Recall Campaign in the early 2000s, resulting in 11 million Steeltex tires being removed from the roads and highways of the United States. They tell their side of the story in their new book, Where the Rubber Meets the Road: The Bridgestone/Firestone Conspiracy of Death and Destruction ($23.95, paperback, 9781545655962; $10.99, e-book, 9781545655986; $34.95, hardback, 9781545655979).
Specializing in product liability and personal injury cases, Lisoni and Lisoni seemed the ideal team to take on the tire tycoon and seek justice for the hundreds of deaths allegedly caused by the company's shortcuts.
"This book tells the story of the largest privately financed defective tire recall campaign in U.S. history – 11 million defective Firestone Steeltex tires – and how Bridgestone/Firestone was forced to stop manufacturing the tire line," said Lisoni.
Joseph Lisoni earned his undergraduate degree from Saint Mary's College of California and his law degree from the University of California Hastings College of the Law. Gail Landtbom Lisoni attended Dominican College and University of West Los Angeles Law School. They have practiced law as spouses and partners for over 30 years.
Mill City Press is an imprint of Xulon Press. A division of Salem Media Group, Xulon Press is the world's largest Christian self-publisher, with more than 15,000 titles published to date. Where the Rubber Meets the Road is available online through amazon.com, and barnesandnoble.com.
Powered by WPeMatico