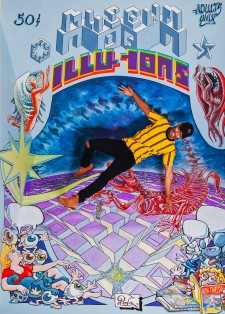 SAN FRANCISCO, May 28, 2019 – The Museum of 3D Illusions is happy to announce they had a fantastic Memorial Day weekend and were offering various individual and group discounts for everyone looking for fun things to do in San Francisco during the holiday.
Families and individuals searching for what to do in San Francisco this past long weekend considered the Museum of 3D Illusions. Since its grand opening, the Museum of 3D Illusions has quickly grown to be one of the most popular museums in San Francisco and has become a firm favorite with people of all ages.
Students, military and seniors can enjoy a $5 discount off a standard ticket price and groups of six more adults are suitable for a 20% discount. Discounts are not just available for adults as the entry for kids aged 6-12 is $12 and kids under 5 can enter the museum for free. Memorial Day weekend can often leave individuals overwhelmed with how to best spend their time and the discounted ticket prices no doubt made the long weekend more affordable and enjoyable for those in the San Francisco area.
A company spokesperson for the Museum of 3D Illusions said, "After a successful grand opening the Museum of 3D Illusions continues to remain busy and is quickly earning the reputation of one of the best San Francisco tourist attractions, we couldn't be happier with the success of the museum and we are pleased we brought some joy to the museum visitors over the Memorial Day weekend!"
The Museum of 3D Illusions will be also open on upcoming holidays and the admissions tickets are available to be purchased from the front desk. However, for those who wish to avoid disappointment or queues, tickets can be purchased online at sfillusions.com. Since its opening, the museum has remained an in-demand location so purchasing tickets beforehand is strongly advised.
Located at 55-61 Jefferson St, San Francisco, CA 94133, the museum features 3D art installations and encourages its participants to interact and take photographs with the displays. Aside from regular viewings, the museum is able to organize birthday parties, school groups and VIP experiences for individuals and groups.
The Museum of 3D Illusions prides itself on being an imaginative, expressive and fun environment for individuals of all ages to enjoy. These one-of-a-kind illusions cannot be seen anywhere other than this San Francisco location and the museum offers something for all ages with everything from fantasy scapes to Instagram-friendly backdrops.
Source: Museum Of 3D Illusions
Powered by WPeMatico