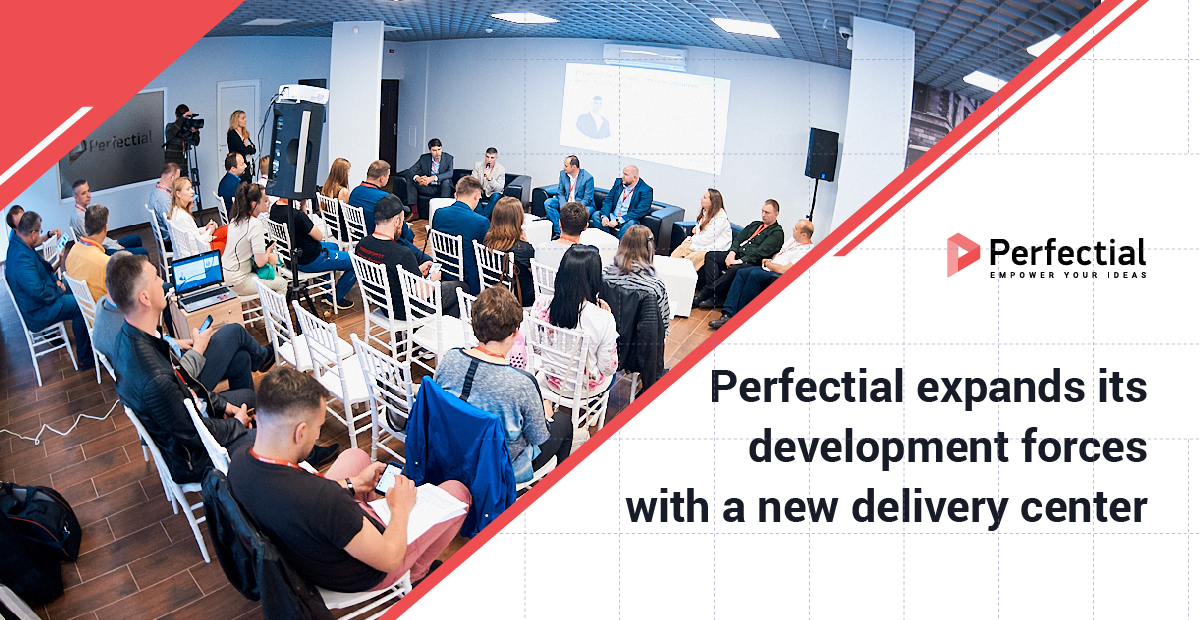 BOSTON, June 24, 2019 – ​​​Earlier this month, Perfectial celebrated the opening of its second delivery center in Ivano-Frankivsk. With this move, the company increases its development forces and expertise, as well as its presence on the local software development market. Ivano-Frankivsk is considered to be one of the biggest hubs for software development in Western Ukraine, with more than 2,000 specialists and over 40 companies operating, which made it a logical choice for a new development facility. Perfectial expands its development forces with a new delivery center.
Since entering the city in 2018, Perfectial has shown impressive growth and now engages over 30 professionals. The company has also participated in all the major industry events like ITRally and ITRally Starters (for two years in a row) and has introduced a series of its own branded professional events – ​Open Talks.
"Back in 2018 when we opened our first office in Ivano-Frankivsk, our goal was to feel the market. A year later, the company is growing and so are our projects, so the city felt like a natural choice for expansion. Many skilled and talented people – that's what we knew about Frankivsk, but in addition to that, we got a warm and friendly community that welcomed us as if we were locals," remembers Andriy Skoropad, CEO Perfectial.
Opening the second office in Ivano-Frankivsk also rewarded Perfectial with experience. Thus, as a highlight of the celebration, the company organized a panel discussion about how technology businesses influence the city's community, initiatives and infrastructure. For this talk, Perfectial gathered Ivano-Frankivsk Mayor Ruslan Martsinkiv, Head of City Investment Office Ihor Popadiuk, Chairman of Supervisory Board of Ivano-Frankivsk IT Cluster Lyubomyr Khodak, Head of IT school at Korol Danylo University Oleh Pashkevych, Development Director of community organization "Teple Misto" Alina Tokmylenko, as well as Perfectial top-management – Andriy Skoropad (CEO), Ivan Kohut (CTO) and Volodymyr Yakubovskyy (Head of Ivano-Frankivsk Office).
The participants discussed a range of issues Ivano-Frankivsk is facing as a rapidly growing location – lack of modern office spaces, the shortcomings of the education system, etc. Both authority representatives and businessmen agreed that these obstacles may be overcome through joint efforts.
About Perfectial
Perfectial is a custom software development company committed to excellence in developing innovative applications using various tech stack for a range of businesses in Europe and the U.S. Perfectial's competence in working with modern platforms and frameworks is recognized and highly valued by its customers and partners.
With over 250 professionals in-house, including project managers, solutions architects, .Net, Java, Ruby on Rails, Python and Node.js developers, UI/UX design and Quality Assurance teams, we offer the full cycle of outsourcing software development: from initial identification of business requirements to system testing, deployment and maintenance. The company also focuses on developing its expertise in augmented reality for the business field, as well as computer vision applications.
Powered by WPeMatico