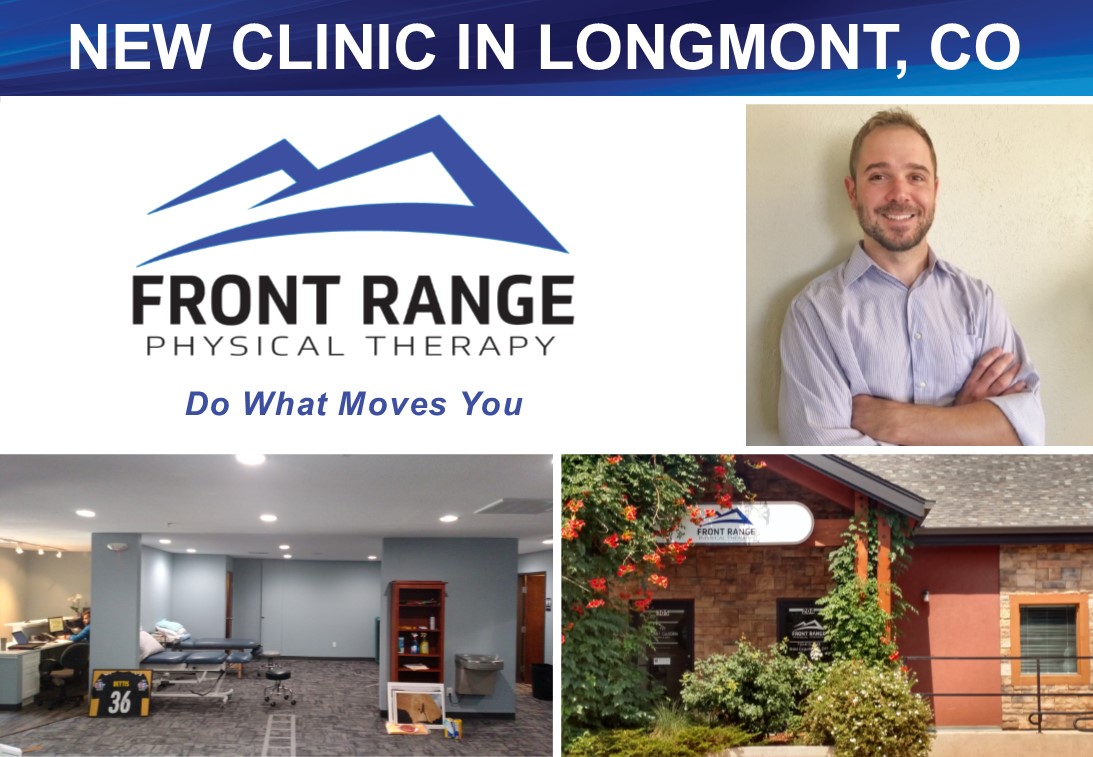 LONGMONT, Colo., August 20, 2018 – Physical Rehabilitation Network (PRN), happily announced the grand opening of their newest facility in Colorado. The Longmont clinic is located at 2130 Mountain View Ave., Suite 204, and will is managed by the clinic director and partner, Brad Grgurich, PT, DPT. A native of Pennsylvania, Brad has been living and working in Colorado since receiving his doctorate in Physical Therapy from the University of St. Augustine. Brad understands how movement can positively impact a person's well-being and has a passion for aiding patients in their quest for improved quality of life.
"Welcoming patients to a new Front Range location is a dream come true," mentioned Brad regarding the opening. "To be able to give back to the community as a part of the rehabilitative process is extraordinarily rewarding and it allows me to impact the lives of the people that mean so much to me."
Along with five other brands in the market, Front Range Physical Therapy – Longmont marks the 20th clinic in Colorado lead by Regional VP, Jeff Lipkin, PT. The outpatient clinic offers a full spectrum of orthopedic rehab services, and also includes specialty services of trigger point dry needling, spinal manipulation, functional movement analyses, blood flow restriction therapy and whole body vibration.
"The Denver metro area is expanding rapidly, and we're committed to providing access to quality care for all," said Bruce McDaniel, CEO of PRN. "Opening a clinic in Longmont with our newest partner, Brad, demonstrates our dedication and motivation to exceed expectations in patient care."
Appointments can be scheduled by calling the clinic directly at 720-815-1188. Early morning and evening hours are available for scheduling, and most major insurances are accepted.
For more information on the Front Range PT brand and locations visit www.frontrange-pt.com. For a full listing of PRN, clinics visit www.prnpt.com.
About Physical Rehabilitation Network
Physical Rehabilitation Network, LLC (PRN) is a privately held physical therapy organization based in Carlsbad, California. PRN is prominently recognized as the leading therapist-friendly rehab organization in the western part of the United States through its partnership model with premier physical and occupational therapists. The company currently operates over 115 locations providing local autonomy and branding to its therapist partners while streamlining all traditional overhead activities of running a practice.
PRN is actively seeking high quality, entrepreneurially-driven physical and occupational therapists interested in partnering with PRN as the company expands its footprint by providing opportunities for therapists to own their clinic. For more information on our model, our locations or partnership opportunities, visit PRNpt.com or contact Michael Rice at 312.560.6020 / [email protected]. You can also follow us @PRNPhysicalTherapy on Facebook, @PRN_therapy on Twitter or LinkedIn.
Contact:
Dawn Wild, Director of Marketing
Phone: 720-299-4808
Email: [email protected]
Source: Physical Rehabilitation Network (PRN)
Powered by WPeMatico