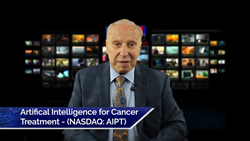 NEW YORK October 01, 2018
Stock-Sector.com, an online source of news about promising medical, technology, and energy companies, today released a video interview with Dr. Carl Schwartz, CEO of Precision Therapeutics Inc (NASDAQ:AIPT), a leader in harnessing the power of data from patients' own tumors, using artificial intelligence, to devise new personalized treatments for cancer.
Through its acquisition of Helomics, Precision Therapeutics will have access to a huge database of more than 150,000 tumors that have been collected more than 10 years, said Dr. Schwartz, "and every day oncologists send us more tumors."
That tumor sample is crucially important, because "every tumor is different," Dr. Schwartz explained to Stock-Sector. Drugs that work to fight one patient's tumor may fail completely with another's, causing unnecessary pain and suffering, and reducing the chances of beating the cancer and staying alive. Helomics' unique platform tests a patient's own tumor to see how it responds to various drugs, providing data back to the oncologist to individualize treatment options. "That saves the patient potentially days of pain and suffering from drugs that won't do any good," said Dr Schwartz. The data Helomics acquires are added to its database anonymously. The database thus contains vast amounts of information about tumors and the ability of drugs to treat those tumors.
In the past, the challenge has been putting that much information to use in guiding treatments, Dr. Schwartz said. But now that challenge has been met through artificial intelligence—and specifically with a technology Helomics calls the D-CHIP™. "The D-CHIP basically takes all this information that has been gathered over 10 years and puts it to use," Dr. Schwarz explains. "By comparing the data 'fingerprint' of the patient's tumor with the other profiles in the database, we can provide information to the oncologist that offers additional context for guiding treatment. In the future we hope to be able to have the D-CHIP AI platform actually make the therapy recommendations to the oncologist, and we are working towards that goal with our academic and medical partners."
Helomics' database and personalized tumor testing is focused on ovarian cancers. However, it also contains tumor and drug response information for lung, pancreatic, and other cancers, so in the future the hope is to be use it to help guide treatment options for a wide range of cancer patients. Meanwhile, it's also in the forefront of using this database and the D-CHIP to help pharmaceutical companies develop new drugs, because the rich data on huge range of tumors, coupled to the AI technology, is of great value to drug discovery. "We're now on a fast track," says Dr. Schwartz. "We are on the precipice of exponential growth."
Stock-Sector is an online source of news about promising medical, technology, and energy companies. Stock-Sector was created out of necessity, to provide a glimpse of the financial markets in sectors relevant to the investor. We strive to deliver easily digestible content to the overburdened stockholder. Another significant focus of ours is to establish compelling media to heighten the experience in neglected humdrum industries.
The statements contained herein may include statements of future expectations and other forward-looking statements that are based on management's current views and assumptions and involve known and unknown risks and uncertainties that could cause actual results, performance or events to differ materially from those expressed or implied in such statements. In addition to statements which are forward-looking by reason of context, the words "may", "will", "should," "expects," "plans," "intends," "anticipates," "believes," "estimates," "predicts," "potential," or "continue" and similar expressions identify forward-looking statements.
Actual results, performance or events may differ materially from those in such statements due to, without limitation, (i) general economic conditions, (ii) performance of financial markets, including emerging markets, and including market volatility, liquidity and credit events (iii) the frequency and severity of insured loss events, including from natural catastrophes and including the development of loss expenses, (iv) mortality and morbidity levels and trends, (v) persistency levels, (vi) the extent of credit defaults, (vii) interest rate levels, (viii) currency exchange rates including the Euro/U.S. Dollar exchange rate, (ix) changing levels of competition, (x) changes in laws and regulations, (xi) changes in the policies of central banks and/or foreign governments, (xii) the impact of acquisitions, including related integration issues, (xiii) reorganization measures, and (xiv) general competitive factors, in each case on a local, regional, national and/or global basis.
Powered by WPeMatico