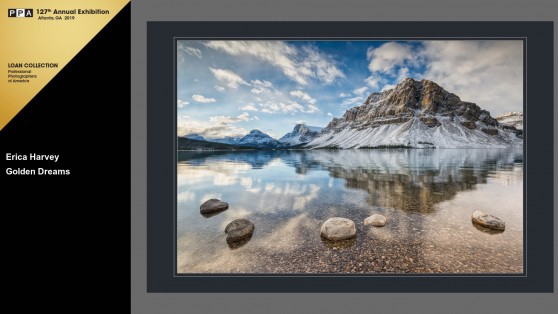 Erica Harvey of Erica Lane Photography recognized for helping to advance the photography industry
Press Release – updated: Jun 17, 2019 15:16 EDT
RAPID CITY, S.D., June 17, 2019 (PressRelease.com) – Congratulations to Erica Harvey, of Erica Lane Photography, who has been recognized for helping to advance the photography industry and who has been recognized by her peers to have some of the industry's most beautiful work.
Erica Harvey, of Erica Lane Photography, a resident of Rapid City, South Dakota, has earned the Photographic Craftsman degree from Professional Photographers of America (PPA). The degree was presented to Erica by PPA president Stephen Thetford, M. Photog. Cr., CPP, at the association's annual convention, Imaging USA, held earlier this year in Atlanta, Georgia.
This degree is not merely a piece of paper. It means that Erica Harvey has met the standards of excellence set by PPA. She has been awarded the Photographic Craftsman degree in recognition of her service to the photographic profession as an orator, author and mentor. In 2019, she was one of only 73 recipients. She also earned her Master of Photography degree.
Erica's degrees – and all the expertise they require – illustrates her accomplishments and talent as one of a select few. Other recent awards included First Place in the IPC (International Print Competition) North Central District's Landscape Category, on June 10, 2019.
Inspired by her love of travel and the natural world, Erica has been collecting moments of time through her photographic works. Recognition from the PPA is a special accomplishment for Mrs. Harvey. "This award really means respect from my peers. The judges are all photographers. It makes me feel more secure about my work, that I'm going in the right direction." – Erica Harvey, Erica Lane Photography, June 2019
About PPA
Professional Photographers of America (PPA) is the largest and longest-standing nonprofit photography trade association with a 150-year history. It currently helps 30,000+ pros elevate their craft and grow their business with resources, protection and education, all under PPA's core guiding principle of bridging the gap between photographers and consumers.
Med5 Federal Credit Union of Rapid City acquires photographs from Erica Lane Photography for their newest branch.
Additionally, Erica's photographs of the Black Hills are gaining a strong local following within the business community. Recently, Kara White of Dakota Business Center and Amanda Williams of ACW Design Studio collaborated on the design for the new branch of Med5 Federal Credit Union, located at 4956 5th Street in Rapid City (near the Walmart Supercenter). When Med5 celebrates their grand opening on Thursday, June 20, customers will be greeted by acrylic installations featuring photography by Erica Lane Photography.
Kara White explained that, "Our client wanted their customers to feel a little piece of 'home' when they walk into the bank. Erica's work perfectly captures the beauty of this area. Her style of photography makes for a striking piece of art, with colors, shapes and composition that play off the modern design we created." – Kara White, Dakota Business Center, June 2019
Many residents of Western South Dakota, as well as visitors to our region, have honored the beauty of the Black Hills by displaying the works of Erica Lane Photography in their homes and offices. Residents of the Black Hills can open our doors and windows to this sacred space every day – now we can also enjoy this scenery and the wildlife that roams free as art inside our living and working spaces.
Whether you're an art lover, or a nature enthusiast, there is something magical about the works of Erica Harvey, inviting you to explore your own corner of the planet further. Erica's recent awards shine a spotlight on her many accomplishments. Other recent photography awards include the North Central District ASP District Medallion, sponsored by ACI (American Color Imaging) in 2019, the North Central District CPP (Certified Professional Photographers) Award in April 2019 and 2018 South Dakota PPA Photographer of the Year.
ASP is a society of professional photographic artists who aspire to maintain the highest level of excellence by adhering to ethical standards, stimulating creativity and continually refining technical competence, the goal of the organization is to promote education, foster fellowship and perpetuate the ideals of photography as a science and an art.
Erica's photographs have been shown in several galleries in Western South Dakota, as well as the East Bank Gallery and Center for Western Studies in Sioux Falls. Erica also teaches techniques to her fellow photographers. Upcoming classes include "Photography 101" (June 23, 2019, at the Rushmore Plaza Holiday Inn in Rapid City) and Basic DSLR 201 on July 28, 2019. More information can be found by visiting her website.
Contact: Erica Harvey of Erica Lane Photography
Telephone number: 605.390.9531
Email: [email protected]
Powered by WPeMatico