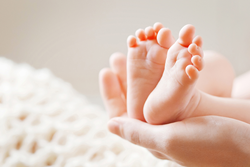 "By educating nurses, staff, and parents, in most cases, you can prevent an infant abduction before it happens. Infant abductions from hospitals are rare, but it's important for staff in any facility caring for infants to always be aware of the threat." Director of Hospital Sales, Josh Lutzke
BROOKFIELD, Wisc. August 28, 2018
First in the industry with an RFID-based security system for hospital Labor & Delivery units, RF Technologies (RFT) is celebrating its 25th year protecting infants with its SAFE PLACE® infant & pediatric security system. Founded in 1987 by current owner and CEO, Glen F. Jonas with the goal of providing life safety and security products for healthcare markets using RF technology and wireless monitoring and controls, the company's initial focus was on providing wander management solutions for senior living, with its CODE ALERT® product line. The first such system was installed at LASATA Nursing Home in Cedarburg, WI in 1988; the system, which sends out a coded signal that activates an audible alarm if a resident wearing a transponder wanders through a monitored area, or lingers too long near a monitored exit, continues to be a mainstay of the company's product lineup.
In 1993, several years after the launch of its CODE ALERT product line, inspired by industry demand for tighter hospital infant security measures, the company introduced its SAFE PLACE Infant Security Solution, again based on RFID technology. Designed and developed with input from nurse clinicians, and customizable for individual hospitals' varied security requirements, SAFE PLACE protects infants and children without interfering with everyday workflow. According to Jonas, during the company's first 10-15 years, product ideas were mainly driven by customer demand—such was the case with SAFE PLACE. Says Jonas, "I received a call from a hospital in California where we'd installed a CODE ALERT wander system in the rehab unit. They asked if such a system could be adapted to protect babies while they were away from the nursery in the mother's room. I still have the internal memo I wrote asking our engineers whether we could meet the need. That is the origin of SAFE PLACE."
Keeping newborns safe is critical for parents, and a reputation for providing a secure, welcoming environment is key to attracting new patients in a competitive healthcare market. RFT's SAFE PLACE protects the smallest patients, gives families peace of mind and reduces the risk of abduction, while at the same time reducing institutional liability. With SAFE PLACE, a patented transmitter is worn on an infant's ankle, secured with soft banding, safe for delicate skin; the transmitter is in constant communication with Alarming Band Receivers and antennas installed throughout the secured area. BABY CHECK®, an optional add-on to the SAFE PLACE system, provides an additional layer of security, enabling automatic verification that an infant is being presented to the correct room and mother. BABY CHECK uses wall-mounted transmitters that correlate with an infant's SAFE PLACE transmitter to confirm a correct mother-baby match, prior to entering the mother's room. When a baby is brought within 15 inches of the door, hospital personnel press a button; a green light confirms a match, while a red light would immediately flash to warn of a mismatch (a rare, but potentially devastating event).
While the potential for in-hospital infant mismatches and abductions is a very real concern, especially for new parents, the good news is that hospitals and maternity units have generally tightened up security over the years and, in reality, the likelihood of such an occurrence is very slim. That said, recent high profile incidents have shed light on the need for such security systems—to prevent both intentional and inadvertent mishaps. As recently as April of this year, hospitals in North Carolina and South Carolina were put on high alert when it was believed a woman was plotting to abduct infants from hospitals within the region. Part of a regional alert system, hospitals received a bulletin warning about suspect Linda Mae Everett's alleged attempts to steal a baby from a New Hanover, NC hospital. In June, a new mom in a West Virginia hospital was shocked to learn her baby was with another family—in the hospital room next door. In that case, the babies shared the same name and hospital staff mistakenly presented the baby to the wrong room. Fortunately, the error was discovered within a matter of an hour or two (accounts vary as to the incident's duration) and no harm came to the child. RFT's Director of Hospital Sales, Josh Lutzke, adds, "In terms of hospital security, there is no substitute for human vigilance. By educating nurses, staff, and parents, in most cases, you can prevent an infant abduction before it happens. Infant abductions from hospitals are rare, but it's important for staff in any facility caring for infants to always be aware of the threat."
More information on infant security systems, featuring RFT's SAFE PLACE in the Labor & Delivery setting:
https://www.wnct.com/news/local-news/infant-abduction-prevention-measures-taken-at-area-hospital/1199491751
Recent in-hospital infant security incidents:
https://www.cbs17.com/news/north-carolina-news/warning-woman-may-be-trying-to-abduct-babies-from-nc-sc-hospitals-officials-say/1137299484
https://edition.cnn.com/videos/us/2018/06/20/hospital-baby-mixup-west-virginia-mxp.hln/video/playlists/most-popular-domestic/
About RF Technologies
RF Technologies (RFT) is a leading provider of safety and security solutions for senior living, healthcare, hospitality, and education, leveraging radio frequency identification (RFID) and real-time locating system (RTLS) technologies. The RFT brand family includes CODE ALERT® call and wander management systems, SAFE PLACE® patient security systems, SENSATEC® fall management products, HELP ALERT® staff duress systems, and EXACTRACK® equipment location systems. With more than 10,000 installations, RFT was the first in the industry to offer remote monitoring, RF consulting, 24/7 technical support by internal staff specialists, and a nationwide service team. Backed by 30+ years of experience in senior living, RFT solutions are UL-certified to meet today's life safety standards, and can be integrated with other systems for an improved total cost of ownership. For more information visit: http://www.rft.com
Powered by WPeMatico