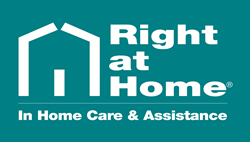 By donating a pair of unwanted shoes, you will be helping a person in need step out of poverty. Every pair of shoes counts.
DANIA BEACH, Fla. July 08, 2019
Right at Home, In Home Care & Assistance, is hosting the donation drive for Soles4Souls from July 7 to October 30, 2019, as part of the NALA's collective cause marketing program, which encourages businesses across the country to unite for a good cause. New or gently worn pairs of shoes can be dropped off at 1249 Stirling Road, Suite 14, Dania Beach, FL 33004.
"By donating a pair of unwanted shoes, you will be helping a person in need step out of poverty," said Sidney Chugani, of Right at Home Dania Beach. "Every pair of shoes counts."
Soles4Souls is a nonprofit global social enterprise committed to fighting poverty through the collection and distribution of shoes and clothing. Children every day are prevented from attending school and adults are unable to work as walking becomes unbearable, which perpetuates the cycle of poverty. To date, Soles4Souls has collected and distributed more than 30 million pairs of shoes to those in need in 127 countries around the world. For more information about getting involved with Soles4Souls or to become an official drop-off location, visit https://soles4souls.org/get-involved/.
Right at Home Dania Beach has been recognized by Caring.com as a "Caring Star" based on great client reviews. Its caregivers are specially trained to provide just the services your loved one needs. Right at Home modifies its custom care plan for your family member as their needs change, allowing them to live at home as long as possible.
Once clients approve their Custom Care Plan, Right at Home begins its search for the most appropriate caregiver to implement care. Right at Home's caregivers are trained, insured, and bonded; and they are employed by their local office. Right at Home's system of matching caregivers to clients takes numerous factors into consideration: services needed, your loved one's interests and the personalities of both your loved one and the caregiver.
About Right at Home Dania Beach, In Home Care & Assistance
Right at Home provides the right care to seniors, starting with the right in-home care services that fall into several categories, including services for those with special care situations caused by numerous medical conditions. Its individualized care programs include hygiene, physical assistance, Alzheimer's and other dementias, companionship and homemaking, home health aide, health reminders, non-medical home care, respite care and wellness. For more information, please call (954) 589-0035, or visit https://www.rightathome.net/dania-beach.
For media inquiries, please call the NALA at 805.650.6121, ext. 361.
Powered by WPeMatico