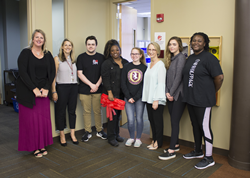 RMU-IL students with advisors (far left) Sandy Grice, Amy Dolhay, and RMU President Mablene Krueger, (third from right) announce the opening of RMU Market, the on-campus food pantry for students.
"The students chose a project they are passionate about and created a solution that can happen immediately." – Robert Morris University President Mablene Krueger
CHICAGO June 20, 2019
Robert Morris University Illinois has announced the opening of RMU Market, a food pantry for all current RMU students to help alleviate food insecurity and hunger to those in need. At a ribbon cutting ceremony held this week, students and staff welcomed everyone to the new market's location near the Student Center at the main campus, 401 S. State Street in Chicago.
The original idea for the market came from Title III Student Services Coordinator, Sandy Grice. "I had the idea to do something simple under Title III for students, like supplying granola bars and canned soup. Once word got out, it spread like wildfire," she said.
That idea turned into an ICenter project in the Spring of 2018 under the guidance of faculty advisor, Amy Dolhay. "We thought a food market would fit nicely. Amy did so much with her ICenter classes to get the ball rolling," continued Sandy. ICenter projects provide meaningful experiential opportunities for students such as marketing campaigns, catering and event planning, graphic design and digital video projects or database development.
The students reached out to RMU President Mablene Krueger, requesting approval to deliver the results of their ICenter project by establishing the food pantry. After listening to their presentation, President Krueger immediately supported them with an enthusiastic "yes!" She reflected, "National statistics tell us that as many as 50% of college students experience food insecurity at some point in their college careers. I was overwhelmed with the social conscience of the students, as well as the professionalism and depth of this project. They had a clear plan, implemented it quickly, and offered viable action plans. Giving them the green light to move forward was very easy; this project is a great example of experiential learning at its best. The students chose a project they are passionate about and created a solution that can happen immediately."
Under Sandy Grice's direction, a Title III Student Services Committee oversees the project. The group met regularly over the past year to plan the logistics for the pantry. Employees were eager to be involved, and the pantry will be stocked with items donated by members of the RMU community as well as items purchased using monetary contributions.
The food pantry will be available for all current students to shop based on a point system. No student will be turned away. "Initially our selection will include non-perishable items such as rice, pastas, canned fruit and vegetables, beans, and soups, to name a few," described Amy Dolhay. "Our intent is also to provide a limited supply of personal care items, which will not count towards the point total for each student."
Faculty, staff and students can contribute to the pantry anytime by dropping off non-perishable donations in the box outside of the Market. For further information on contributions or volunteer efforts, please contact [email protected]
Robert Morris University Illinois is a not-for-profit, accredited baccalaureate and graduate degree granting institution, serving students interested in getting an education in business, graphic arts, nursing and health care, culinary and computer studies at its main campus in Chicago, as well as at locations in Arlington Heights, Elgin, Orland Park, Peoria, and Lake County. For more information, call 800-762-5960 or visit the web site at http://www.robertmorris.edu
Powered by WPeMatico