Eyes hits radio and streaming platforms worldwide and is now available on all streaming platforms.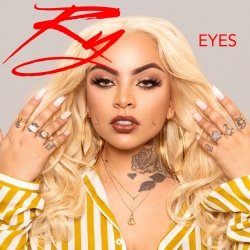 Los Angeles, CA, September 28, 2018 — "Eyes" has been released worldwide today by new pop artist sensation Ry. The new single is the first to be announced from her upcoming EP, which is set to be released by the end of 2018. "Eyes" relates to everyone in its lyrics and has a super catchy hook that will keep you singing it over and over again. "Look me in my eyes when you break my heart." How many of us can relate to that in a past or present relationship? "And then there's the music itself which makes this song phenomenal," says Executive Producer Anthony West (A Dubb).
Listen to Eyes here: http://smarturl.it/ry_eyes
About Ry
Ry is an American singer/songwriter whose music is in the style of urban pop culture. Her voice has a smooth tone with a wide vocal range. Ry was born in Chicago, IL and then moved to Long Beach, CA in 2001, in which she joined a long line of musicians displaying a natural singing ability at a very young age. Her first performance at Renaissance High School for the Arts was in the production of "Grease." From that point, Ry was then invited to audition, and became a member of the POP/R&B girl group formally known as "HerStory." During this venture, she gained significant exposure by doing live performances and appearances in events such as The High School Tour, Glory Fight, California Dance Festival, Sheikh's Music Lunch Time Tour, Cali Dance Festival, LAPD Children's Day Show, Backyard House Party, DJ Carisma "Cookie Jar" Hosted By Abby, and many more.
Throughout many experiences within the music industry, Ry interacts with, and inspires many young artists to stay focused and follow their dreams. She is inspired by music legends in many genres: Karen Carpenter, Mariah Carey, Beyonce, Boyz II Men, Mini Riperton, Whitney Houston, Adam Levine, and Julia Michaels, just to name a few. She has a true midwestern heart and has always had a dream of making magical music that she can share with the world.
"Eyes" was written and produced by some of the best in the industry including writers/producers Off The Gr!d (Richard Vission & Loren Moore), Jason Michael Robinson, Riley Biederer, William "Will Jay" Behlendorf, and Executive Producer Anthony West (A-Dubb) of dubb Records. The producers have spoken of Ry's voice as being magical and the perfect tone for this song. "Eyes" is now available on all platforms such as iTunes, Spotify, Soundcloud, etc. Be sure to download a copy and experience the musical artistry of new pop singer Ry.
www.rydope.com
www.instagram.com/rydope
www.twitter.com/ry_dope
www.facebook.com/ry_dope
www.youtube.com/channel/UC75GLS4mCACVoeuQhoN3XMg?view_as=subscriber
1st Page PR
Lauren Marano
[email protected]
310-737-8992
Powered by WPeMatico