The Space Coast Machinist Apprenticeship Program will start a new class on August 15. Manufacturing companies that are seeking to train machinists are encouraged to enroll their employees in the program before classes begin. The new class of apprentices will join those already working towards their State of Florida journeyworker certification. The program typically takes 4 years to complete and the apprentices will learn the trade from professional machinists.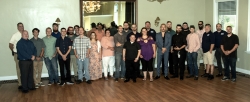 Melbourne, FL, July 05, 2019 — Space Coast Machinist Apprenticeship Program will start the next semester on August 15. The apprenticeship program consists of on-the-job training supervised by member companies and classroom instruction taught by professional working machinists. The classroom instruction is held at the Cocoa Campus of Eastern Florida State College with hands on machining at the machine shop in Building 16. Machining companies in the Space Coast region are encouraged to join the program and enroll employees as machinist apprentices prior to August 15.
In May 2019, nine apprentices graduated from the four-year program and 31 advanced to the next year. Leonard J. DeFrancisci, co-owner of DEMACO, a designer and builder of industrial pasta machines, also volunteers as the President of Space Coast Machinist Apprenticeship Program. DeFrancisci said, "Our program is providing an important service to the manufacturing community in the region." Alice Jones, the Administrative Director said, "The program consists of manufacturing companies from a wide range of industries. These companies include, Aero Electronics Systems, Barnlight Electric, Brevard Robotics, Custom Aerospace Machine, Craig Technologies, DEMACO, Diamond Precision Machine, EMF, J.W. Performance Transmission, KAM Technologies, Knight's Armament, Lockheed-Martin, Luminar Technologies, Mainstream Engineering Corporation, Migrandy Corporation, MTC Engineering, Precision Shapes, and SilverHorse Racing."
Space Coast Machinist Apprenticeship Program is a non-profit, charitable 501(c)3 organization dedicated to training machinists in the Space Coast Region of Florida. It is a traditional machining apprenticeship program that is registered with the Florida Department of Education, Office of Workforce Education and Continuing Education as part of the National Apprenticeship Program in accordance with the standards recommended by the Florida Apprenticeship Advisory Council. Once completed, the apprentice receives the Florida Department of Education "Qualified Machinist" certificate, which is recognized as a "Journeyworker License" in all of the USA and Europe.
Powered by WPeMatico