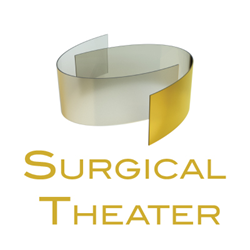 "The use of virtual reality in the treatment continuum has given patients the ability to engage and understand their pathology like never before. The immersive experience offered by virtual reality surgical planning offers an unprecedented look at our patients' anatomy"
LOS ANGELES September 17, 2018
Surgical Theater's Precision VR™ technology will be featured on the CBS Network show The Doctors along with Dr. Kurtis Auguste, Chief of Surgery at Benioff Children's Hospital Oakland and his patient Mathias Hahn on September 19, 2018. Dr. Auguste will fly-through Mathias' brain, demonstrating to the viewers how this Precision VR technology influenced his surgical approach and facilitated a trust-based bond with Mathias and his family.
Surgical Theater's 360 Virtual Reality technology allows patients to step inside their own anatomy alongside their surgeon while donning VR headsets. Together, they walk into the space between vascular structures and stand between arteries, looking over their shoulder at the tumor. By simply rotating their head, patients can explore their anatomy while their surgeon outlines options. This 360-degree VR visual representation gives the patient and their families an informative understanding of their condition, surgical plan options, and facilitates shared decision making.
"The use of virtual reality in the treatment continuum has given patients the ability to engage and understand their pathology like never before. The immersive experience offered by virtual reality surgical planning offers an unprecedented look at our patients' anatomy. It allows us vantage points that are simply impossible to achieve by any other means. Equipped with these tools, neurosurgical planning has never been safer or more comprehensive. This technology made all the difference for this patient's case and made an invaluable contribution to the success of his surgery", said Kurtis Auguste, MD, Chief of Surgery at Benioff Children's Hospital Oakland.
UCSF Benioff Children's Hospitals' expertise covers virtually all pediatric conditions, including neurological disorders, cancer, heart disease, pulmonology, diabetes and endocrinology, as well as the care of critically ill newborns. The nonprofit UCSF Benioff Children's Hospitals are committed to providing outstanding care to children in the Bay Area, California and beyond. They are known nationally and internationally for basic and clinical research and are at the forefront of translating research into interventions for treating and preventing diseases. The San Francisco campus is part of UC San Francisco, whose schools of Medicine, Pharmacy, Dentistry and Nursing lead the nation in research grants from the National Institutes of Health. The Oakland campus has a highly regarded pediatric residency program and is one of only five ACS Pediatric level I trauma centers in California.
Surgical Theater, the market leader in virtual and augmented reality based healthcare services, is the first to combine cutting-edge fighter jet flight simulation technology with a patient's own anatomy scans, using medical imaging such as MRI, CT and DTI, to create 360-degree room-scale virtual reality reconstruction of the patient's own anatomy and pathology. Precision VR revolutionizes patient engagement opportunities in the clinic while providing cutting-edge surgical planning and navigation capabilities in the operating room, as well as powerful tools for medical education and collaboration for surgeons and medical communities.
"We are honored to partner with UCSF Benioff Children's Hospital in Oakland and Dr. Auguste", said Moty Avisar, CEO and Co-Founder of Surgical Theater. "The Doctors show provided Dr. Auguste an opportunity to showcase how Surgical Theater's Precision Virtual Reality allowed him to take Mathias and his family through an immersive virtual surgical journey, all the way to a heroic recovery. This is the story of how technology meets superhero surgeons and patients to change medicine".
About Surgical Theater
Surgical Theater is committed to providing virtual reality-based healthcare services that bring enterprise-wide value to its partners. Surgical Theater integrates cutting-edge fighter jet flight simulation skill sets to redefine medical imaging and visualization capabilities that empower both patients and physicians throughout the treatment continuum. Surgical Theater's innovative imaging platform combines & enhances multiple imaging modalities to create a comprehensive, virtual reconstruction for various levels of interaction and immersion facilitating a virtual tour inside the patient's own anatomy. Find out more at http://www.surgicaltheater.net and on Facebook at https://www.facebook.com/SurgicalTheater and on Twitter at @SurgicalTheater
About UCSF
UC San Francisco (UCSF) is a leading university dedicated to promoting health worldwide through advanced biomedical research, graduate-level education in the life sciences and health professions, and excellence in patient care. It includes top-ranked graduate schools of dentistry, medicine, nursing and pharmacy; a graduate division with nationally renowned programs in basic, biomedical, translational and population sciences; and a preeminent biomedical research enterprise. It also includes UCSF Health, which comprises three top-ranked hospitals – UCSF Medical Center and UCSF Benioff Children's Hospitals in San Francisco and Oakland – as well as Langley Porter Psychiatric Hospital and Clinics, UCSF Benioff Children's Physicians and the UCSF Faculty Practice. UCSF Health has affiliations with hospitals and health organizations throughout the Bay Area. UCSF faculty also provide all physician care at the public Zuckerberg San Francisco General Hospital and Trauma Center, and the SF VA Medical Center. The UCSF Fresno Medical Education Program is a major branch of the University of California, San Francisco's School of Medicine. Please visit http://www.ucsf.edu/news.
Powered by WPeMatico