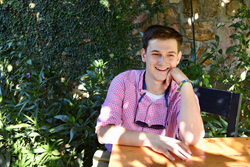 Bryce Jurss, serial entrepreneur and tech enthusiast, discusses the importance of security in creating RoyChat.
"Security and user privacy were critical to us going in. We've worked out a way to serve merchants and users in a situation that's beneficial for both."
DALLAS August 27, 2018
Set the scene: a group of college students are studying together in an area with no Wi-Fi. They all want to order a pizza, but they're not sure where the best place is to order, no one wants to pay for all the food, and there isn't an ideal way to split the cost between several payment methods, let alone the tax or the tip. What are the students to do? Most millennials know that this situation is far from uncommon. Luckily, after it was the experience of serial entrepreneur, tech enthusiast, and recent college grad Bryce Jurss, he came up with the idea to solve it and other logistical problems facing his generation and even the world. Roy Chat is an AI chatbot which corresponds via SMS to order and deliver users' food, split checks, and in the future help users save money, invest, correspond with medical personnel, and more.
So far, these functionalities have been delivered through separate apps, only available on smartphones. For distributing payments, many use PayPal or Venmo; for food delivery, UberEats. With Roy Chat, there is no app to download because one communicates with "Roy" and gives the chatbot commands through SMS, which stands for "Short Message Service," and is simply the acronym which refers to a "text." Roy is "someone" a user texts, and he's accessible anywhere text messaging is available. As an integrated service, Roy rolls suggestions, payment, and delivery into one, and users don't need a smartphone or data to access Roy. Roy is similar to Apple's Siri, but available through text messaging and amalgamated to delivery services and merchants of food and other products.
Despite an inspiration for Roy and Roy Chat that may seem off the cuff, Jurss's history as an entrepreneur is as long and interesting as his current product itself. Jurss began investing in the stock market (with the help of his grandmother) at age nine, and opened his first LLC at age eleven. Since that point in time, he's had a history as a founder, partner, or board member of several successful businesses, including a gum franchise and a real estate LLC. But this success didn't arise without adversity to motivate it. Jurss battled bullying throughout his childhood and developed an intense empathy for others as a result.
"The Odyssey Project [which is developing Roy Chat] and all of my ventures have started with the questions, 'Why do I want to do this? How does it help the world?', before I ever got to the question of product specifics or profit," says Jurss.
Jurss's partners at The Odyssey Project, Chief Solutions Architect Brian Smith and Chief Operation Officer Jake Dahms, share his dedication to improving the world through business above all. Smith has founded a health business focused on providing clean, chemical-free products without environmental impact, and Dahms operates two popular mobile fulfillment businesses he launched in Texas, one an (award-winning) all-purpose delivery service and one for door-to-door auto repair.
But tech startups, all the rage in the early 2000's, have of late experienced somewhat of a fall from grace. This has largely been due to how numerous have collected, used, and sold user data to drive advertising profit models. Jurss intricately devised a profit model for Roy Chat based on temporary data storage that The Odyssey Project does not own or sell instead, the Roy Chat application, through machine learning, creates an algorithm based on users' preferences that it deploys to help Roy serve users better.
"We don't permanently store or sell user information," Jurss says. "And users only see paid advertisements when they're looking for that information that is, when they ask Roy what restaurants are close by. Roy will recommend a few based on the algorithm tailored to their preferences – no data storage involved. Security and user privacy were critical to us going in. We've worked out a way to serve merchants and users in a situation that's beneficial for both."
Starting with the "why" of his company, Jurss quickly saw the mistakes others made in growing some of the previous "unicorn" tech innovations and decided it was time for a change. Roy Chat was therefore constructed with a profit model that maintains users' privacy and dignity and puts them in control and best of all, Roy Chat users get access to a reliable and helpful "new best friend."
About The Odyssey Project, Inc.:
The Odyssey Project, Inc. focuses on the development and universal implementation of artificial intelligence, machine learning, and augmented reality technologies within the online ordering, retail, and fintech space through omni-channel deployment. Roy Chat, the flagship solution of The Odyssey Project, is a globally accessible "personal assistant" and "best friend" that combines AI and machine learning technology with SMS. "Roy" is the person or in this case the conversation engine that users text when they want to order delivery, find the best local dry cleaner, book concert tickets, schedule a reminder for something, and more. Roy has the ability to split bills including tax and tip between a group of users, and through encrypted fintech, helps users save money and invest. Best of all, Roy Chat does not permanently store or sell user data. The brainchild of young entrepreneurs Bryce Jurss and Jake Dahms, The Odyssey Project's technology is transformative just as social media was transformative a decade ago. Roy, who can be a "friend" to anyone with access to text messaging, promises to bring greater ease, efficiency, security, and fun to our lives. To learn more, visit http://www.odysseyprojectinc.com/.
About Roy Chat's creator, Bryce Jurss:
As a young boy Bryce Jurss fell victim to bullying and some personal adversity but refused to let this limit his trajectory instead, empathy for others has become his guiding principle and his greatest strength. He realized he could best make a difference using his knack for business, and at age 11, launched his first LLC. Two successful businesses later, while in college at Baylor University, he and some friends found a need to efficiently split the cost of a pizza delivery but without Wi-Fi access or a cell phone data plan. Like Mark Zuckerberg with Facebook and other notable college-age innovators before him, Bryce Jurss adapted SMS/texting technology to provide a platform for handling business. He invented Roy, a conversation engine, and soon AI assistant Roy Chat became a reality. This serial entrepreneur's technology, which combines machine learning with SMS, can be deployed all over the world, and has the potential to disentangle privilege from high tech. An avid and even experienced businessman at just 21, if someone discounts him because of his age, he reminds them that they could be missing out on a great opportunity by looking at a number —and not the person. For more information, visit https://brycejurss.com/.
Powered by WPeMatico