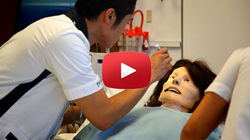 ORANGE COUNTY, Calif. June 19, 2019
Beard Boy Productions is a creative advertising production agency. But that's like saying that Apple is a telephone company. Or that the New England Patriots are a football team. It's true, as far as it goes. But it doesn't tell the full story of what sets them apart.
So today, with everyone and their third cousin claiming to "do video," Beard Boy has drawn upon decades of experience to innovate an exclusive set of distinctive services, strategies and processes that add great value to every project they undertake: The Beard Boy Way™.
A Healthy Advantage for a Local University
For a large SoCal health care university, The Beard Boy Way began with their Shoot & Repurpose™ strategy. Together, they assessed the client's need of video content not for a single project, but for the entire year. They then strategically shot enough footage of programs, classrooms, technology, professors, students and the like, at each campus, to fulfill the needs of multiple projects—while creating an archive of footage and elements for future productions.
A full seven years later, that footage is still in use, allowing the initial cost of the multi-day shoot to be amortized over 50-plus videos and spots.
See a sample of the work here: https://youtu.be/VNvGATMAfLY
Adding Quality and Efficiency as Well as Value
Speaking of building an archive, Beard Boy's Idea-to-Archive™ service enabled them to turnkey video projects for the university from concept to script to shoot to edit to digital asset management. Their CLIO- and Emmy-winning Certified Virtual Partners™ brought experience and quality to each production. Their Jumpstart Session™ gained them input for any given campaign element in just 15 minutes. And their Second-to-None Customer Service™ assured exceptional work plus an enjoyable experience.
Silly Name. Serious Know-how.
Clients like Miller Beer, Los Angeles Angels of Anaheim, John Deere, a large banking institution in America and Blue Cross and Blue Shields nationwide agree: Beard Boy's name may be silly, but the work they do is seriously effective.
http://www.Beardboy.com
https://www.youtube.com/user/BeardBoyProductions
[email protected]
949-752-7113
Powered by WPeMatico