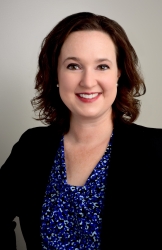 Deer Park, IL, September 24, 2018 — The Plexus Groupe, an innovative, client-focused insurance brokerage and risk management consulting firm, has hired Kari Fredrick as Vice President of Human Resources.
Fredrick brings a wealth of knowledge and experience in human resources, said Matthew McKenna, Chief Financial Officer of The Plexus Groupe.
"Kari's expertise is in developing and implementing strategic human resource initiatives that will ultimately help make our already thriving company the best workplace possible for our associates," McKenna said.
Fredrick earned a bachelor's degree from the University of Wisconsin-La Crosse, and a master's degree from Roosevelt University in human resources management. She then attended Argosy University to earn a doctorate degree in business administration and holds the SHRM Senior Certified Professional credentials for HR.
Fredrick spent the last 14 years working in the manufacturing industry and now looks forward to showcasing her skills in the insurance industry with The Plexus Groupe.
"It is an honor to join the Plexus team," Fredrick said. "I am excited to visit each office and become part of the culture of this great company."
The Plexus Groupe offers innovative solutions in employee benefits, property and casualty, corporate retirement plans, personal lines insurance, human resources administration/consulting, benefits technology services, and mergers and acquisitions. Additionally, the Plexus Global Network gives clients access to insurance placement in 130 countries around the world. Plexus is headquartered in Deer Park, Ill., with additional locations in Chicago, Dallas, and Oklahoma City.
For more information on strategic insurance solutions, please contact the firm at 847-307-6100 and ask to speak to a client executive. The firm can also be reached via the Web at www.PlexusGroupe.com.
Powered by WPeMatico