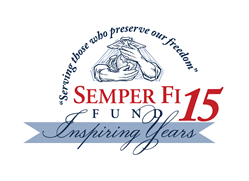 Because of our amazing donors, the Fund has assisted more than 23,000 service members with over 194,000 grants. That is far more than we could have ever imagined."
CAMP PENDLETON, Calif. July 09, 2019
The Semper Fi Fund, the nation's highest-rated veteran charity currently, is thrilled to announce that it has reached another major milestone along with the celebration of their 15 year anniversary. The Fund has crossed the $200 million mark in providing immediate financial assistance and lifetime support to combat wounded, critically ill and catastrophically injured members of all branches of the U.S. Armed Forces and their families.
"We are so grateful for the generosity of everyone who has supported the Fund's mission for the last 15 years," said Semper Fi Fund President, CEO and Founder Karen Guenther. "We have come so far since a handful of us met around a kitchen table talking about how to help wounded Marines and Sailors as they returned from Iraq. Because of our amazing donors, the Fund has assisted more than 23,000 service members with over 194,000 grants. That is far more than we could have ever imagined."
The Fund provides assistance to service members and their families through a variety of programs that fall under three main categories:
Service member and family support programs that assist the family unit from injury through recovery. Programs include bedside financial support, housing and transportation assistance, the provision of specialized and adaptive equipment, caregiver support, a kids camp and canine and horsemanship programs.
Transition programs that integrate service members back into their communities with education and career assistance, apprenticeship programs, peer support, unit reunions and retreats.
Integrative wellness programs that improve body, mind and spirit through a variety of health therapies including NeuroFitness, specialized equipment, counseling, PTSD video resources and sports programs.
"Our global network of staff, volunteers and resources processes an average of 100 grants each working day," Guenther added. "We're extremely proud of the fact that our support is delivered directly to service members with a minimum of red tape. Once a grant is approved, funds are typically distributed in 24-72 hours."
Since its inception in 2004, the Semper Fi Fund has maintained an extremely low overhead of just 7% on average. As a result, charity watchdogs have given the Semper Fi Fund their highest ratings: A+ from Charity Watch (the Fund is one of only two veteran nonprofits to receive this rating), four stars from Charity Navigator (for 9 consecutive years) and a Platinum Seal of Transparency from GuideStar.
About the Semper Fi Fund
The Semper Fi Fund provides urgently needed resources and lifetime support for combat wounded, critically ill and catastrophically injured members of the U.S. Armed Forces and their families. Case Managers from the Semper Fi Fund work one-on-one with service members and veterans to understand and support their individual needs right now and throughout their lifetimes. The Fund delivers the resources they need during recovery and transition back to their communities, working to ensure no one is left behind. Contact Brian McPherson of the Semper Fi Fund at 740-819-9781.
Powered by WPeMatico