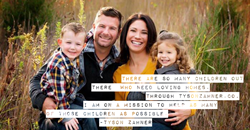 There are so many children out there who need loving homes. Through TysonZahner.co, I am on a mission to help as many of those children as possible.
Jackson, Missouri June 28, 2019
Tyson Zahner, creator of Attract 100 Leads in 30 Days, recently announced the launch of his website, tysonzahner.co. Zahner reviewed that he built the website as a resource to help people hoping to foster or adopt, as well as those looking for ways to help support children without actually fostering or adopting a child. The resource site highlights Zahner's experiences as an adopted child as well as an adoptive parent. Zahner shared, "I've been blessed to experience adoption in my life in a variety of ways. This gives me a unique insight into that lifestyle. I was adopted in 1977 when there was still a stigma that came with it. My sister was also adopted, and I enjoyed the company of many foster brothers and sisters over the years. Our parents had a heart for the parentless and wanted to share their love with as many children as possible."
Zahner continued, "The way my parents cared for a multitude of children through the years showed me the level of generosity and patience it takes to be a parent in any capacity. I took this compassion for children into adulthood and let it touch every aspect of my parenting as I entered into fatherhood. Beyond being adopted, I'm also the father of an adopted child. My wife and I had difficulty conceiving in the beginning and decided adoption would be our path to parenthood. We brought our first son into our lives in 2008. We knew we wanted two children and applied for a second adoption not long after the first. In a twist of fate, my wife found herself pregnant around the same time! We're now fortunate to have two wonderful children. I know there are so many children out there who need loving homes. Through TysonZahner.co, I am on a mission to help as many of those children as possible."
TysonZahner.co reviews facts and resources for those interested in becoming a foster or adoptive parent, in addition to heartwarming success stories on adoption. The site also includes topics on Zahner's personal takeaways from adoption, tips for overcoming uncertainties, and advice for parents who are considering adoption. Looking back on his experience Zahner stated, "Whether you're just starting to consider adoption or you already have an adopted child under your roof, you are offering the love and life they deserve. Unconditional love and honesty will provide the strongest bond for a trust-filled relationship. Make every effort to show them that they're wanted and accepted. Continuous love will get you through most of the challenges you'll face."
In addition to giving potential adoptive parents advice and resources, TysonZahner.co also celebrates the stories of other families that went through the adoption process. The website showcases dozens of successful adoption stories. Photos of smiling families accompany stories of emotional struggles and triumphs through adoption. One story features Amy Ness, a mom of 14 children, 11 of whom are adopted. On her experience, she shared, "It's one of the hardest things I have ever done, but it is the most rewarding thing I have ever done."
Tyson Zahner is an educator, entrepreneur, public speaker, and photographer. Through Zahner's course, Attract 100 Leads in 30 Days, he teaches small or independent business owners how to attract qualified leads. He also continues to run his own photography studio in Missouri, Tyson Zahner Photography. Through TysonZahner.co, Zahner ultimately hopes to help children in need of a loving home.
About Tyson Zahner
Tyson Zahner is the creator of Attract 100 Leads in 30 Days. The online course reviews how business owners can generate increased traffic, leads, and sales using online automation tools. Throughout his career, Zahner has created multiple digital business ventures in addition to his brick and mortar photography business, Tyson Zahner Photography. His studio specializes in modern high school senior photography, wedding photography and family portraits. Zahner lives in Missouri with his wife and two children.
Powered by WPeMatico