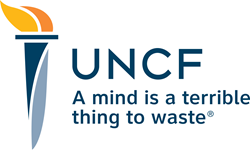 GREENSBORO, N.C. September 29, 2018
UNCF PRESIDENT/CEO DR. MICHAEL L. LOMAX,
REP. TED BUDD (R-NC), AND REP. ALMA S. ADAMS(D-NC)
CELEBRATE BENNETT COLLEGE 145th FOUNDER'S DAY
Lomax serves as convocation speaker
WHAT: UNCF (United Negro College Fund) president/CEO Dr. Michael L. Lomax, Rep. Ted Budd (R-NC) and Rep. Alma S. Adams (D-NC) celebrate Bennett College 145th Founder's Day. During the celebration, Lomax, Budd, Adams and UNCF Vice President of Government Affairs Lodriguez Murray will be recognized for their role in helping Bennett College and other historically black colleges and universities (HBCUs) receive a deferment on loan payments to the HBCU Capital Finance Loan Program.
WHO: Bennett College is a valuable economic engine in its community, generating substantial economic returns year after year. The benefits flow to Bennett College's graduates, of course, who'll enter the workforce with sharper skills and vastly enhanced earning prospects. Bennett College generates $36 million in total economic impact and 369 jobs for the state of North Carolina.
North Carolina's 10 HBCUs produce $1.7 billion in total economic impact, 15,663 jobs and $20.7 billion lifetime earrings.
WHEN: Sunday, September 30, at 10 a.m. (EST)
WHERE: Annie Merner Pfeiffer Chapel on Bennett's College Campus
*Brunch/Awards Reception immediately following, Wilbur Steele Hall Art Gallery*
Open to the Public
Interview opportunities are available with Rep. Ted Budd (R-NC) and Rep. Alma S. Adams (D-NC). To schedule an interview, please contact Richard Shropshire @ 917. 843.7598.
About UNCF
UNCF (United Negro College Fund) is the nation's largest and most effective minority education organization. To serve youth, the community and the nation, UNCF supports students' education and development through scholarships and other programs, strengthens its 37-member colleges and universities, and advocates for the importance of minority education and college readiness. UNCF institutions and other historically black colleges and universities are highly effective, awarding nearly 20 percent of African American baccalaureate degrees. Today, UNCF supports more than 60,000 students at more than 1,100 colleges and universities across the country. Its logo features the UNCF torch of leadership in education and its widely recognized motto, "A mind is a terrible thing to waste."® Learn more at UNCF.org, or for continuous updates and news, follow UNCF on Twitter at @UNCF.
Powered by WPeMatico