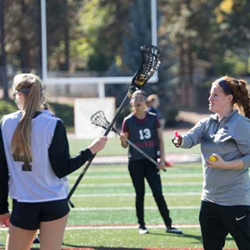 NBC Camps will be offering a girls lacrosse camp in Spokane, Washington hosted at Whitworth University
NBC Lacrosse Camps is an exciting expansion for the NBC Sports Academy because lacrosse is such a fantastic sport.
SAN RAFAEL, Calif. March 23, 2019
NBC Camps is pleased to announce that it is expanding to offer lacrosse camps. Lacrosse is a perfect training pairing with basketball to help offset overuse injuries and keep athletes competitive and ready for the season. Lacrosse and basketball share similar strategies, which helps advance basketball talent and vice versa. Also, because of Title IX, the number of college scholarships for lacrosse has increased and NBC Camps wants to help young athletes get scholarships and help parents offset the rising costs of college tuition. NBC Camps Lacrosse camp will be run by Whitworth University's new lacrosse coach Noelle Brouillard.
"NBC Lacrosse Camps is an exciting expansion for the NBC Sports Academy because lacrosse is such a fantastic sport. The teamwork, the intensity and the strategy make this sport a great option for young athletes. Plus the future is wide open for this sport. NBC Camps wanted to jump on this opportunity to expand to lacrosse because of the camp differences we can give to campers. The separator for NBC Camps is the personal investment our staff makes into the students. The intensive skill saturation, the encouraging staff and the positive teaching along with real tools to elevate skill, confidence and ability translates into why NBC Campers come year after year," says NBC Camps Chief Operations Officer Jennifer Ferch. "Watching the kids walk away with elevated skills and stronger mentalities is worth all the work that goes into event planning and preparing for these intensive camp programs."
Girls Lacrosse Camp Overnight & Extended Day
Dates: July 15 – 18
Daily Times: Overnight or Extended Day from 9:00am-8:00pm (Director will provide exact drop off and pick up times – first day check-in is 12:30)
Age Group: Girls 10 – 18 years old
Find out more about NBC Lacrosse programs at http://www.nbccamps.com/lacrosse.
NBC Lacrosse Camps are affiliated with USSC Sports Camps and Nike Sports Camps. NBC Camp have been in operation since 1971 and have helped train thousands of athletes to be successful on and off the court. NBC stands for Nothing Beats Commitment and the belief that daily habits reveal future success. For more information about NBC Camps visit http://www.nbccamps.com or call 1-800-406-3926.
About US Sports Camps, Inc.
US Sports Camps (USSC), headquartered in San Rafael, California, is America's largest sports camp network and the licensed operator of Nike Sports Camps. The company has offered summer camps since 1975 with the same mission that defines it today: to shape a lifelong enjoyment of athletics through high quality sports education and skill enhancement.
Powered by WPeMatico