Comedy Night returns to Buona Sera Restaurant.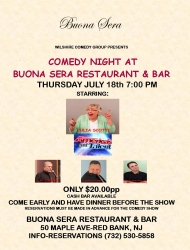 Red Bank, NJ, June 25, 2019 — New Jersey favorite Julia Scotti from America's Got Talent headlines this great night of comedy. Julia is a nationally headlining comedian, former teacher, author, speaker, and woman of transgendered experience. She was a quarter-finalist and fan favorite on season 11 of America's Got Talent on NBC in 2016.
Originally from Fairview, New Jersey, for the first 48 years she was better known as comedian Rick Scotti. She toured the country, appearing at venues all over the United States and Canada, both as a headliner in comedy clubs and as an opening act for artists such as Lou Rawls, Chicago, and Frankie Valli and The Four Seasons. Julia has appeared on numerous television and radio shows as well as commercials.
In 2000, Julia left comedy to begin her life altering transition, and also to begin her new career as a teacher, where she remained for seven years. She was self-employed for a time, but in 2011, after a ten year layoff from comedy, Julia returned to the stage. Her new brand of comedy is fierce, honest, and fearless. She has been described as a "force of nature," "a cross between Sam Kinison and Mrs. Doubtfire," and like a "chainsaw flying through the room."
Julia was a quarter-finalist on season 11 America's Got Talent in 2016. She was a judge's favorite with Simon Cowell saying "you genuinely made me laugh," and Howie Mandel quoted as saying, "you have so much to offer, you are a joy."
In 2012, Julia had been named one of the Top Five Transgender Comedians in the country by Advocate Magazine. Since then, she has gone on to become the first transgendered woman and finalist in the New York Based Ladies of Laughter Competition. She has performed at the Boston Comedy Festival, and in 2014 was one of the winners of the Laughlin Laugh Festival in Nevada.
Today, you can find Julia performing at comedy clubs and theaters around the country. When she isn't making people laugh, Julia often speaks at teacher in-services on the subject of bullying and transgendered youth issues.
Also performing is Joe Pontillo.
Joe Pontillo was born ages ago and has been doing comedy for even longer. He has appeared on AXS TV's "Gotham Comedy Live," MTV's "The Middle Of The Night Show," OANN's "The Rick Amato Show" and currently has a special on Amazon titled "Delete Your Account." His jokes have appeared in Newsday, Timeout NY, The New York Times, and in the Washington Post. He has written and produced two films "Street Of The Dead" and "Hank Is Evil." You can regularly see Joe perform all over NYC and regularly at the clubs on Long Island.
Opening the show is Manny Erias aka Tugboat Manny.
Tugboat Manny is a former deckhand on harbor & ocean going tugboats out of New York Harbor. He served our country from 1993 – 2001, as Naval Reservist Striker for General Duty Corpsman via Naval Hospital Jax. His self deprecating humor & natural comedic talent has catapulted his comedy career. In only a couple of years Manny went from hosting three comedy open mic's each week, to becoming a regular at Comix Mohegan Sun. In only his third year of comedy Manny performed on the most famous stage on Long Island, the "NYCB Theatre at Westbury" in-front of 1500 people & one of his all time favorite comedian's, Kevin James, who is also an alumni of Ward Melville High School where they both attended on Long Island. Before his big debut, Kevin was back stage giving Manny advice… (a moment that he will never forget)! Later that year through word of mouth Jay Leno personally called Manny wanting to meet with him to also give him advice about comedy… (another moment that he will never forget)! In his fourth year, Manny performed for seven nights straight at the Borgata Comedy Club in Atlantic City, New Jersey. His passion is to advocate for mental health both on & off of stage for all, especially the Veteran community, as he is the "Director of Comedy" for Project9line, an organization that helps reintegrate veterans back into society through the arts & one of them arts is the "Fine Art of Stand-Up Comedy" which Manny teaches to fellow Military Veterans. Manny's clean comedy captures every demographic of all ages, with jokes about his mental health, his numerous volunteer jobs, and his infatuation for Hellman's Mayonnaise. Manny's comedy is not only hysterical, but also inspirational. His love for comedy & strong stance on mental health awareness makes Tugboat Manny a must see comic. Manny can be seen hosting & headlining most shows for Veterans Comedy Assault.
This great night of comedy takes place Thursday July 18th at Buona Sera Restaurant, 50 Maple Ave, Red Bank NJ. Tickets are $20pp and is available by calling (732) 530-5858. Dinner is available 90 minutes prior to showtime.
Alan Streisfeld's Wilshire Comedy Group has been producing quality stand-up comedy shows since 2008. More information can be found at
www.wilshirecomedygroup.com
Powered by WPeMatico